Love perfection.
According to British scientists, two copies of Colleen McCullough's The Thorn Birds are sold every minute in the world.
The Thorn Birds is a heart-rending classic!
The Thorn Birds is a song of love. The song of love, all-powerful and forbidden, all-conquering and punished. It is an amazing story of a man and a woman who carried this sinful and holy feeling throughout their lives.
The Thorn Birds summary.
In 1977, Australian writer Colin McCullough introduced to the world a romance novel, The Thorn Birds, which instantly became a worldwide bestseller. The success of this book primarily lies in the heartbreaking love story, described against the backdrop of a colorful Australian landscape.
Daryl Duke directed the miniseries The Thorn Birds in 1983, starring Richard Chamberlain, Rachel Ward, and Sydney Penny. This film has some differences from the literary original, but I have to admit that almost the entire cast is perfectly matched to their roles.
 The novel's action covers a vast time frame from 1911 to 1969 and is contained in seven chapters, the central character of which is the red-haired Maggie Cleary.
She lives in a large New Zealand family, whose father is an ordinary hard worker Paddy, who gave most of his children a red-haired color. Mom – Fia Cleary, a woman with aristocratic roots, the will of harsh life circumstances who married Paddy, who clearly could never claim her according to her social status.
Rich Paddy's sister, who lives in Australia, decides to invite his entire family to her Drogheda sheep station to soon transfer the reins of government of the financially profitable land to the blood heirs. While on the Continent, the Cleary family meets a young priest, Ralph de Bricassard. Here, the fateful meeting of 10-year-old Maggie and the 28-year-old reverend takes place. A petite red-haired beauty with gray eyes forever fascinated the tall, blue-eyed handsome brunette.
The eternal confrontation in his heart between love for God and love for Maggie will become one of the film's central themes, and a possible violation of sacred vows will lead to the spiritual torment of his human soul. Maggie also falls in love with Ralph and carries her feelings for him throughout her life.
 It is an incredible film – we see precisely that love, unforgettable, chic, unearthly, between Ralph and little Maggie, which Colin McCullough wanted to show to us.
In my opinion, Richard Chamberlain is just incredible; he's gorgeous. I am delighted with his Ralph, and I can no longer imagine anyone in his place. I saw feelings, emotions, and love and believed him. You have to fight for love, but the Pope was more important for Ralph. And he refused. He could leave her alone – this little girl who loved him so madly.
I want to say a couple of words about little Sydney Penny (Meggie Cleary as a child); she was inimitable. She played just unbelievable, even better than some adult actresses. When she laughed, my face lit up with a smile; I was sad too when she cried. Incredible.
Separately, it must be said about the music of Henry Mancini; this is a dumb delight! I adore Ralph and Maggie's theme.
Overall, the television version of The Thorn Birds deserves your attention. It recreates the romantic relationship between a man and a woman whose fate is not in a hurry to bring them together.
My thoughts.
 If we look closely, we will see that Maggie was lonely since childhood; she had no one to talk heart to heart with, except for the priest Ralph de Bricassar. The girl grew up and became prettier before his eyes, and they spent a lot of time together. Seeing her for the first time as a little girl, the priest immediately began to treat her in a special way, not just as his spiritual daughter. And at the age of 15, she admits to herself that "he is her friend, her cherished idol, the new sun in her firmament.»
But forbidden love is a great tragedy of two people who cannot be together.
The Thorn Birds is a new version of Romeo and Juliet. Heroes cannot be together, but their love does not go out.
Let's discuss why we are so attracted by love with no future?
The topic of unhappy love is not new. However, in life, we also cling to relationships that have no future. There are several reasons for this:
It feeds our life scripts. Repetitive situations in our life should teach us something. If unhappy love often happens in your life, I advise you to see a psychologist. Therapy will lead you into a happy relationship for sure.
Often we live in illusions, and they control us. The inner child loves to dream and sincerely believes you can be with your loved one if you wait a long time. But in reality, often, it is just a waste of time.
If a person has an attitude toward suffering, he will look for doomed relationships. We remember that Maggie was lonely as a child, while her mother was unhappy in marriage. The girl could absorb the sacrificial attitude. Maggie also was unhappy in her marriage.
And finally, real warm love warms us all our lives, and we choose it again and again. Forbidden love seems to be specially created for romantics, dreamers, and sensitive people.
Movies like The Thorn Birds.
If you want to explore beautiful, forbidden love, even more, I recommend a couple of my favorite films.
The Scarlet Letter (1995)
Film directed by Roland Joffé with Demi Moore and Gary Oldman.
The Scarlet Letter is an adaptation of the novel by Nathaniel Hawthorne, and here we see true bright love as a scarlet flower. The film is about the forbidden love of a priest and a beautiful woman.
A passionate, youthful desire to live according to the dictates of one's own heart sweeps away all the barriers of the monotony of powdered goodness and musty righteousness. It is a silent rebellion against narrow-mindedness, intolerance, and worship of orderly order and established rules once and for all.
And I will say from the bottom of my heart: I sincerely admire Hester Prynne. I am proud of her faith in herself and her beloved, stoicism and unbending will!
Reverend Dimmesdale is exactly what the incomparable Gary Oldman should be. With his carved hands, classic chiseled profile, and beautiful blue eyes.
 The love scene in this movie is, in my opinion, one of the most moving love scenes in the history of American cinema.
The Scarlet Letter is a cinematic love ballad that which two hearts sing to each other. And we still hear this ancient and eternal motive.
Three Steps Above Heaven (2010) 
Tres metros sobre el cielo is a Spanish melodrama directed by Fernando González Molina, an adaptation of the novel "Three meters above the sky" by Federico Moccia. Starring Maria Valverde and Mario Casas.
It is the story of two young people who belong to different worlds. Babi is a rich girl who displays kindness and innocence. Hache is a rebellious boy, impulsive, unconscious, and prone to risk and danger. It is unlikely, almost impossible, but their meeting is inevitable, and in this desperate journey, the first great love arises between them.
This film is about first love, pure, naive, beautiful, fabulous, but sensual. This film is only the beginning of the story of two heroes, but what a beginning!
The director seemed to be trying to scream with his picture: «Look and pour tears into your pillow, dear ladies! This passionate love is not for real life!»
This movie is really great. Frankly, I did not notice any flaws because every second, I followed with both eyes, perhaps even with all my senses, the main character. My heart has been stolen by a sultry Spanish handsome man in a black leather jacket on a cool bike! 
I was also pleased with the music, especially the composition, Forever young.
If you love reading about love relationships, check out 9 1/2 weeks explained and When Harry Met Sally relationship analysis.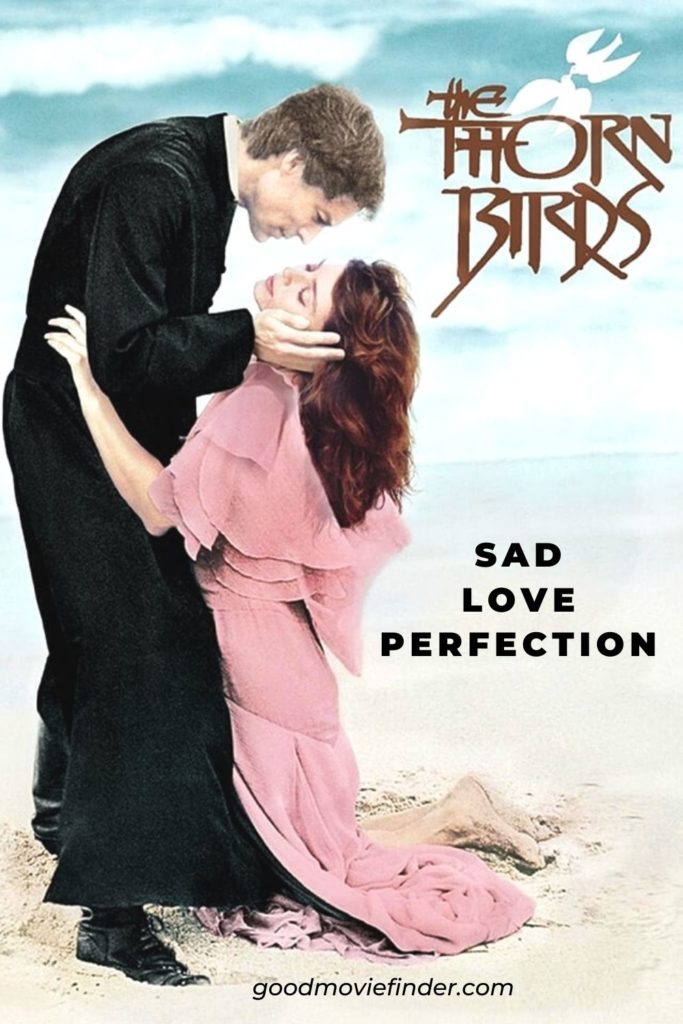 Bottom Line.
I fell in love with The Thorn Birds entirely and irrevocably.
After all, we need to clean our souls with such films, or it will simply turn into a stagnant swamp. And this cannot be allowed. Therefore, I wholeheartedly wish to see this movie to those who have not seen it yet.
Share this blog post if you enjoyed it. I would really appreciate it!