Besides happiness and joy, motherhood also brings other emotions.
Honest movies about motherhood and postpartum depression are needed no less than inspiring and positive ones.
Understanding and caring for mothers sometimes is vital.
In this article, I'll tell you about my 10 favorite movies about motherhood. These films are must-see for dads, including future ones. For friends, grandmothers, and familiar young mothers. 
Movies about moms. My list.
Tully (2018).
Drama, comedy. IMDb 6.9.
When the mother is her support.
This time, Charlize Theron reincarnates as a 40-year-old mother of two children who decided on a third child. While not suffering from postpartum depression, Theron Marla's character feels discomfort from her own body, cannot tolerate older children, is tired from breastfeeding, lacks sleep, and is in the last stages of burnout.
Western critics praised Tully for its most honest portrayal of a middle-aged, middle-class woman giving birth.
Salvation comes to her in the form of a cheerful, understanding and ready for anything nanny – either a girl, or a vision.
This film is about when a mother needs help, but there is no resource even to ask for it.
Tully is one of my favorite movies about motherhood. Let`s recall other pivotal films in cinema history, where the mothering experience, its lessons, problems, and challenges were fairly and comprehensively explained. 
Boyhood (2014).
Drama. IMDb 7.9
Mother's everyday feat.
Boyhood caused media hype in its release year when Linklater worked on the project for 12 years, filming the same characters and showing them changing. We see how children grow up and adults get fat and gray.
Formally, Boyhood is the story of one boy growing up from age 6 to 18, his life with his sister, a visiting dad, and a mother who does best for her children.
The figure of the mother, her marriage, the search for herself, and the troubles at work gradually takes center stage in the film. All this exposes all the problems of an independent woman with children, whose task is to keep a face and give children a sense of security and care, and most importantly, to be their closest friend.
In my opinion, this is a movie about how a person's heroism is impossible to notice when he lives so close next to you.
This film will definitely go down in the history of cinema, and not only because of the filming process stretching for a decade. Everyone should watch this movie to see themselves from the outside. This film opens our eyes to our lives, showing what ultimately turns out to be the most important thing for a person: family and love.
Mommie Dearest (1981). 
Biography, Drama. IMDb 6.6.
Mom as an abuser.
The film Mommy Dearest is based on the memories of Christina Crawford, daughter of Joan Crawford, one of the most famous and sought-after actresses in Hollywood in the first half of the 20th century.
Forties movie star Joan Crawford is at the height of her fame. Enjoying wealth and popularity, a woman decides that she needs to take on a foster child. And soon, Joan becomes the official guardian of a sweet girl named Christina.
For the baby, such an outcome of events is an absolute dream come true because now her mother is a famous and rich movie star. But in reality, everything turns out to be somewhat different.
The Hollywood beauty is very nervous, emotionally unstable, and, in addition, just obsessed with cleanliness. Difficulties are also added by Joan's alcoholism and the constant change of lovers.
Domestic violence, both psychological and physical, can be included in a psychiatric textbook on the behavior of a narcissistic and emotionally immature parent.
Mommie Dearest is one of the movies about selfish mothers. Joan is a prime example of a narcissistic mother.
I wrote down the characteristics of selfish mothers so that you pay attention to them when watching the movie.
 The narcissistic mother is concerned with how others perceive her children, not how kids really feel.
 A selfish mother devalues and often denies any negative emotions, discomfort, or suffering the child experiences.
 Any sign of rebellion and disobedience is met with the threat of rejection and excessive punishment.
 There are attempts to compete with the daughter and look her age.
 The narcissistic mother expects the child to understand what he did wrong without explanation.
Self-centered mothers see their children as an extension of themselves and take credit for any success they achieve.
 If the child misbehaves, the narcissistic mother takes away her gifts. She can throw them away, break them, or give them to someone else.
Uncontrollable rage and anger.
Mermaids (1990).
Comedy, drama. IMDb 6.7.
Motherhood as an adventure and improvisation.
Among the films about the motherhood experience, Mermaid, a miracle from the late 80s with Cher and Winona Ryder, stands out.
It's one of the happiest films about treating children as a ticket to your childhood—to a laid-back, optimistic, joyful version of yourself.
Despite sharp conflicts within the family and funny incidents with identity, all three main characters – a mother and two daughters from different fathers – act as a single organism: an example of true sisterhood and one of the rarest cases of positive motherhood in cinema.
It is a very soulful family movie that should not have age restrictions. Viewing is desirable for children, teenagers, and adults. Everyone will see something for themselves in it. 
A film about women and, above all, for women. Very vital, a little sad, but incredibly kind. Worth watching!
Room (2015).
Drama, thriller. IMDb 8.1.
Maternal love as salvation.
Mom baked a cake at night. It is a small cake without candles. Her son is upset and refuses to eat. And only mom knows that she saved all ingredients for a couple of months.
The Room is a challenging experience because this movie is about how to survive while remaining hostage.
Joy – the heroine, played by Brie Larson and received an Oscar for this role – is the mother of a five-year-old boy who was born when she was already a prisoner of a psychopathic kidnapper. Son Jack knows nothing but the world inside the basement, which his mother calls "the room," and will later be forced to adjust to the world outside their survival zone.
The viewer will see the psychological violence, not the physical one that leaves traces and never heals. At the same time, it is worth noting that the child saw pluses even in such a small room.
The mother who chooses the path of perseverance and self-sacrifice in this film is a guarantee of adaptation and the child's only connection with the standard in a situation where the norm does not exist initially.
As in the movie Life is Beautiful; in The Room, the parent goes to any tricks to hide from the child the level of cruelty that is still incomprehensible to him.
But first of all, this is a film about love. About a mother's love for her child, about a boy's love for his mother. Love that breaks through the most vital walls.
Three billboards on the border of Ebbing, Missouri (2017).
Drama, Crime, Comedy. IMDb 8.1.
Motherhood as revenge.
Perhaps this is one of the critical roles in the career of American actress Frances McDormand.
Her character is faced with the indifference and absolute incompetence of the local police and investigators. Nobody cares about her raped and murdered daughter.
Faced with laziness and accusations of indecent behavior by her daughter Mildred buys and hangs three billboards asking unpleasant questions to local cops. Finally, she joins in a brutal war for her principles when she receives threats and aggressive rebuffs.
A woman does not cease to be a mother if her child dies before her. However, in this film, the motherly role – persistent and vengeful – contradicts the stereotypes of "female" behavior in acute situations: instead of enduring, being silent, and mourning, Mildred chooses to be on everyone's lips but restore some justice for her daughter, at least posthumously.
The magnificent film Three Billboards Outside Ebbing, Missouri reveals all the abscesses of society, everything that officials would like to hide, creating the illusion of a prosperous world and democracy, tolerance, and respect, which should ooze literally from every crack. But, alas, the truth of life is most often bitter like poison,
But in the end, you realize that this is an unusually kind movie—the kindness of some new format, from which pathos has been subtracted.
The director managed to make a good movie out of hatred, despair, and bestiality while depriving it of negative characters.
Baby Blues (2006).
Horror. IMDb 5.7
Postpartum depression is the real thing.
It is one of the scariest postpartum depression movies.
A woman living in a house on the outskirts and raising four small children is going crazy. Now her eldest son, must save the rest of the children, who are threatened with death at the hands of a crazy mother.
The film is based on the story of Andrea Yates and her family: Andrea drowned her five children in a bathtub on June 20, 2001, was declared insane, and sent to a psychiatric clinic.
This film received many negative reviews, not least because of the 'inconceivable cruelty' demonstrated – the explicitly shown murders of minors. 
At the same time, if some uncle-maniac had dealt with them, everyone would have shut up together, but then – oh Gods! – the killer is dear but crazy mommy. Pardon me; it is a brutal reality! Every single day, news feeds are full of such stories. Everywhere, regardless of countries and nationalities.
The worst thing is that postpartum depression does not happen instantly in a minute. Usually, many events precede such attacks, which remain without public attention. So when will society finally decide whether domestic violence is a general problem or a personal problem for each family? And in most cases, such tragedies can be avoided.
For me, this is a very special film. The first time I watched it was like a horror movie, and it was scary. The second time I watched Baby Blues when I was a mother of two small children. I felt even more frightened because I saw myself in this crazy mother.
You need to pay attention to the details and listen to the dialogues carefully. For example, you will see an exhausted woman; she lacks affection and help from her husband. But her partner proposes to her to have a fifth child while she is sad about a lost career.
The older son notices something is wrong. But the father replies that mothers are always like that; they will be sad, and then it will pass.
This film is not to be feared. You don't have to be 'ashamed' of it. After all, Baby Blues reflects sad, terrible, but still realities.
Bad Moms (2016).
Comedy. IMDb 6.2
A funny film about an acute social problem.
'Bad Moms' is a hilarious and honest life comedy if you are familiar with such a scenario in life. 
You have to get up early, make breakfast, drive the kids to school, go to work where you are not appreciated, pick up the kids, feed lunch, take them to clubs, go to an extraordinary parent meeting for a stupid reason, pick up the kids, clean the house and feed everyone dinner. Uff… 
In addition to everything, you don't even have time to take a bath.
It is how the main character lives, played by the cheerful and pretty Mila Kunis, but at some point, the cup of patience overflows, and look where it all leads!
It is a very light and funny movie that I like to watch sometimes because it reminds me of important things – behind the abundance of humor, there are hidden thoughts that are easy to miss in everyday routine. For example, it is impossible to be a perfect mother, and sometimes being a 'bad' teaches a child independence and readiness for real life. If you do not take care of yourself, then no one will take care of you; if you do not take the solution to problems into your own hands, life will not change and will not become better.
 Starting as a pure comedy, by the middle, the film reveals to the viewer the main idea, which is not at all funny.
Volver (2006).
Comedy, drama. IMDb 7.6
Mother as the one who is always there.
Relationships between parents and children regularly become the central theme of the filmography. In Volver, three generations of women depend on each other: but the story's central motif is the suffering of women of all ages, the inability to deal with them even after death, and the transfer of inheritance to daughters "curses."
The figure of the mother becomes not only authority but also fate.
Volver is a purely feminine film, soaked through the problems of age, appearance, family life, and the search for happiness.
The director is looking for answers to questions:
When does she realize that her daughter was raped by her husband?
When does the husband begin to cheat, and wild rage blinds his eyes?
Is it possible to get rid of guilt?
When did she realize that the only way out was murder?
The first thing that caught my eye was a bright, juicy picture: no less vivid characters and images. Then wonderful music. Spanish motifs and sincerity reign everywhere. But all this is just a backdrop for the terrible situations in which the heroines of Volver got into. 
In general, nothing fantastic is happening or shown on the screen—the harsh everyday life of lonely, cornered women. But despite the horrors that happen to them, although they create, the main characters remain optimistic and alive. It is the female world of Pedro Almodovar.
The scene in which Raimunda sings the song that her mother taught her is gorgeous and creepy. The feeling that you hear and see something so personal. As if you were allowed backstage.
Terms of Endearment (1983).
Comedy, drama. IMDb 7.4 
Motherhood as a strong bond.
Terms of Endearment focus on the fact that there are such bonds with parents that have not weakened for decades and continue to dictate our lives.
The widow Aurora and her daughter Emma experience different ages, meeting and parting with men, long separations, moments of acute separation, and sudden intimacy. 
Their relationship does not fit into one approved scheme; they have been balancing acceptance, rivalry, and irritation for many years. The reason is high mutual expectations and the inability to cope with their lives on their own.
In any case, Terms of Endearment is one of the prominent films about a family that does not leave you for a minute. For me, this is a film of fantastic depth about what essential things remain behind the veil of the daily worries of every person.
The tape tells about the fate of mother and daughter; two threads run through the entire film in parallel, and only in the finale have they intertwined again. All the vicissitudes of the plot lead to only one thing: a clear realization of the deep, ineradicable connection between people, that force that beats in the heart and cannot escape, and its name is love. 
All the threads along the story's course are intertwined at the moment when, at dawn in the hospital ward, Emma suddenly regains consciousness and meets her mother's eyes. In complete silence, two women look at each other, and in these views, everything is all pain and endless love carried through the years.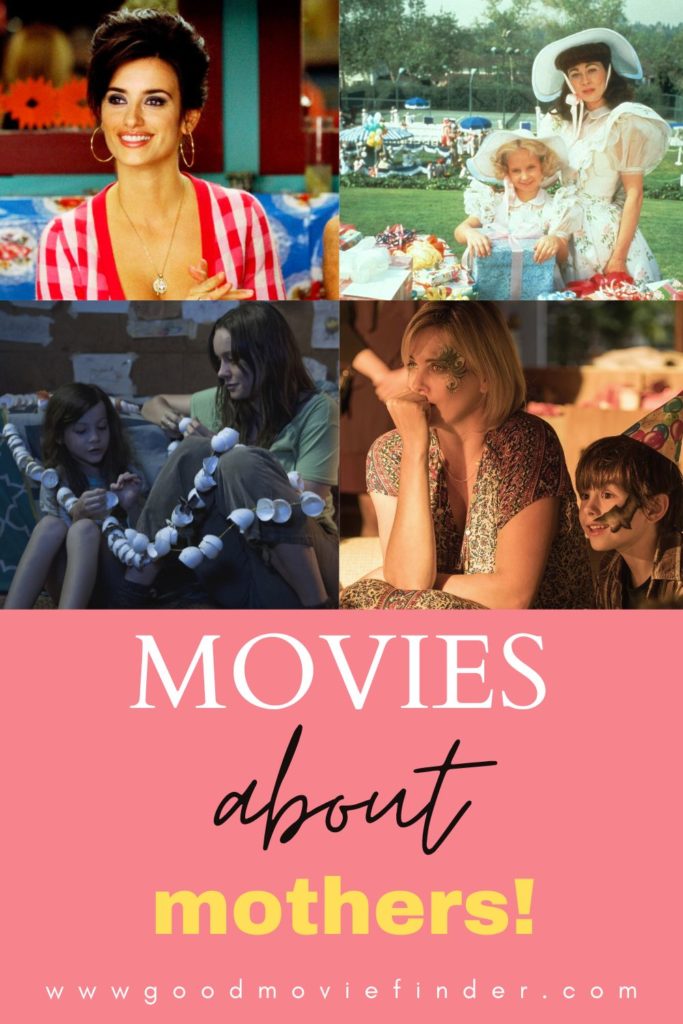 P.S.
In addition, I have a great movie review for We Need to Talk About Kevin. Heartbreaking picture of motherhood.
Share this blog post if you enjoyed this list of movies about motherhood. I would really appreciate it!