A dizzying sight or two girls in trouble!
Fall movie is one of the few projects of 2022 that I especially remember.
It is not a new plot where a person finds himself in a situation where no one can come to their aid. We have already seen something similar in the films "127 hours", "Frozen," "The Shallow" and others.
This picture takes a 2000-foot-old tower, where two friends go, as a mortal danger.
I would like to say right away that Fall is an almost perfect movie to watch on the big screen.
Despite the predictable plot, Scott Mann's painting can make you fear heights with renewed vigor and become a warning: climbing 600-meter ancient structures is dangerous.
You will like this movie if you like extreme sports and beautiful girls. Also, Fall surprises the audience with unexpected scenario moves and excellent camera work.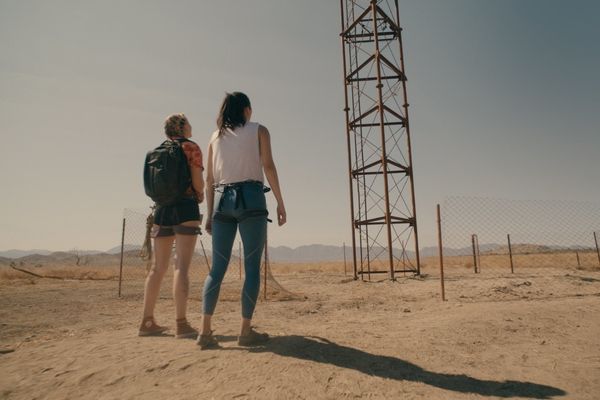 Fall 2022 plot.
Well, the plot is, of course, straightforward. Two friends, Becky and Hunter, decide to go on an adventure. Becky has been in depression and mourning for a year after the death of her husband, who fell off a cliff during their shared climb.
Her friend Hunter tries to get Becky out of this state and offers to climb the local TV tower over 2000 feet high to scatter Becky's husband's ashes and let go of the past. The idea, of course, may seem crazy, but Becky agrees, and great trials lie ahead for her friends.
Already in the trailer, they showed what happened – part of the rusted stairs suddenly collapses, and the heroines remain at the very top. They are trying to survive and find ways to get down or call for help.
The film is reminiscent of Frozen in 2010 regarding the degree of tension. Only here, it's not cold, frost, mountains, and wolves, but desert, wind, height, thunderstorms, and vultures. 
By the way, the filming took place in the Mojave Desert. The director has decided to soften the rental rating from R to PG-13, and more than 30 f- word were removed from the film in post-production.
Is Fall movie scary?
Fall 2022 movie is a thriller. But decently, it can scare you if you are afraid of heights. Also, this film falls in the category of survival horror. 
If you love scary disaster films, check out my article with the best movies about the apocalypse.
Cast.
Director Scott Mann, starring Grace Caroline Currey as Becky Connor and Virginia Gardner as Shiloh Hunter. IMDb rating is 6.4. 
Starring young and charming actresses. The main characters are realistic. You sympathize with their heroines and root for them, although you understand that this ascent was stupid and led to mortal danger.
I also liked the small but important work of Jeffrey Dean Morgan. The actor perfectly conveys the emotions of the father of one of the heroines, who does not find a place for himself in search of his daughter.
The director of the picture, Scott Mann, did his best. His film is downright creepy at times.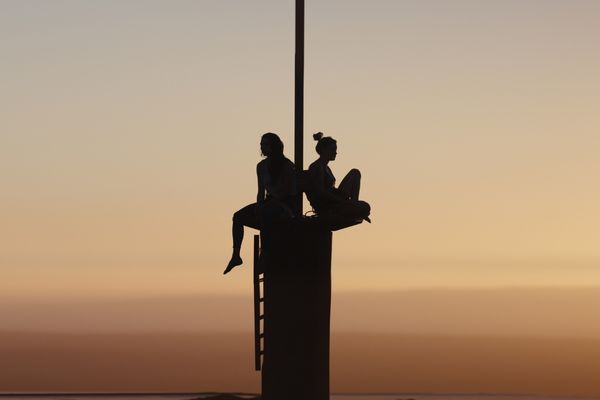 Also, Miguel "MacGregor" Olaso's cinematography is superb in this film. The camera shows us the essence and power of a massive radio tower standing in the desert.
A giant colossus rises to the very sky. Enormous height, the mass of rough rusty iron. All these loose bolts and rusted steps. All this is perceived as accurate. It's like you're there yourself.
And the actual camera tower, much smaller, was ingeniously built on the edge of the canyon. It made it possible to achieve a stunning effect and a sense of height.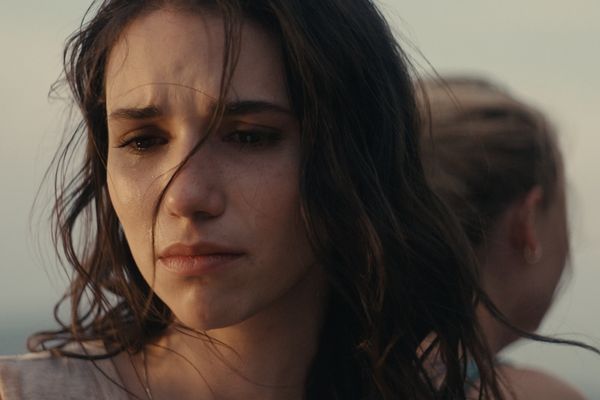 Don't go where it says 'No Entry.'
I decided to watch this movie to escape from everyday worries. To say, add a little adrenaline.
With all the miscalculations in the film, there is a constant feeling of this danger and tension. 
Despite the fatigue and boredom of the predictable plot, I felt fear and anxiety when the girls were at the very top.
I can only partially agree that this film has banal dialogues. These heroines are not elderly thinkers but living people. Although their speech is entirely adequate for their age, at the same time, unexpectedly serious thoughts almost casually flicker at a specific moment, and their mood even changes. As a result, the film takes on a philosophical connotation.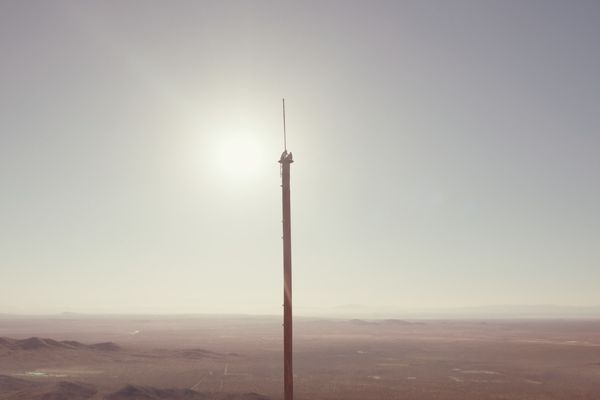 I also want to talk about the survival process shown in the film: how realistic was it?
Of course, there were a few blunders in the film. I even read a few discussions on the mountaineering forum. They offered several options for the girls to avoid death and return home alive.
However, returning to the film, the physical survival process is not as important as the mental one.
If you want more new pictures with the twisted plot, check out the fantastic 10 new detective movies 2022.
Becky was a successful Instagramer, and if you are interested in a blogging career – check out my list of 10 best movies about bloggers.
Where to watch?
Luckily we have plenty of options where we can watch Fall movie. It is Prime Video, Apple TV, Vudu, Roku device, ROW8, Redbox, and Google Play.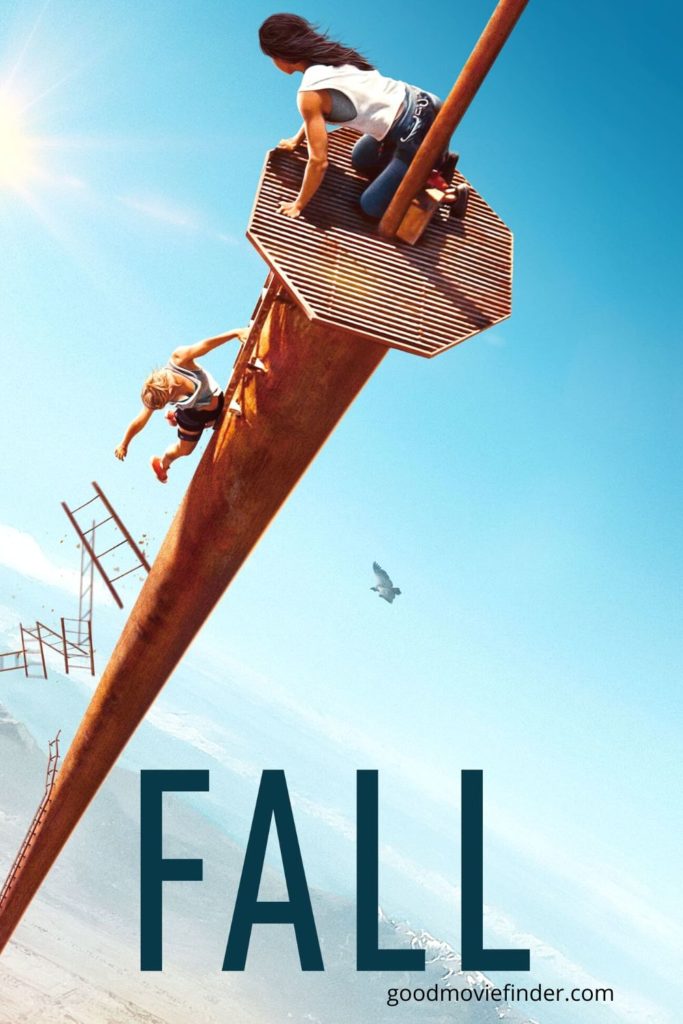 Final words.
All in all, it is a great film to tickle your nerves a little and enjoy the views of heights and the sky. The picture keeps you in suspense until the very end. The film surprises even in a seemingly linear and predictable narrative without depriving the audience of an exciting twist.
Of course, you will not watch this movie twice or more, like real works of art, but it will help you pass the evening pleasantly.
Fall reminded me that life is one; it should be cherished and not be put on pause.
Share this blog post if you enjoyed it. I would appreciate it!