Since childhood, my favorite female names have been Vivien and Scarlett. As you may have guessed, I am a big fan of the film Gone With Wind and Vivien Leigh. 
But behind Vivien's shoulders is not only this role; there were others. But few people remember them. However, several films have become real classics of cinema.
Today I want to share the best movies of Vivien Leigh with you.
Vivien Leigh Movies in Order.
The Village Squire (1935)
Look Up and Laugh (1935)
Things Are Looking Up (1935)
Gentlemen's Agreement (1935)
Fire Over England (1937)
Dark Journey (1937)
Storm in a Teacup (1937)
A Yank at Oxford (1938)
Sidewalks of London (1938)
21 Days (1940)
Caesar and Cleopatra (1945)
The Deep Blue Sea (1955)
Best Vivien Leigh films.
The Roman Spring of Mrs. Stone (1961) 6.5 IMBd. 
Mrs. Stone's Roman Spring is a sad story about a fading movie star played by Vivienne. After the sudden death of her husband, her heroine travels to Rome, where she starts an affair with a young gigolo (this is one of the first roles of Warren Beatty).
The trouble is Mrs. Stone falls in love with a young man. But these feelings will not bring her happiness.
Anna Karenina (1948) 6.7 IMBd.
I was born in Russia, and I love this book very much. Anna Karenina is a brilliant novel to be adapted into a movie. And it has been filmed more than once with various actresses, from Greta Garbo to Keira Knightley.
Vivien Leigh played Anna Karenina in Julien Duvivier's film. And she is stunningly beautiful in this movie; she is mesmerizing. The British actress managed to feel her character. It seems that she does not play but lives the life of Anna. In my opinion, this is a high-quality and very believable adaptation of one of the best works of Russian literature.
St. Martin's Lane (1938) 7.0 IMDb.
In St. Martin's Lane, Vivien plays the role of Libby, the thief. By the will of fate, she is taken under his wing by a street performer who is trying to keep her out of trouble. But soon, Libby's talent is noticed by a famous songwriter, and Libby becomes a celebrity. It is a story about the pursuit of fame at any cost.
Charles Laughton and Vivien Leigh are simply beautiful; the actors were a fantastic duet. I advise you to watch this incredibly touching picture.
Ship of Fools (1965) 7.1 IMBd
It is Vivien Leigh's last movie. "Ship of Fools," tells about the lives of various passengers on board an ocean liner heading from Mexico to Germany, which is increasingly plunging into the abyss of Nazism.
A divorced lady, a ship's doctor, a baseball player, a Spanish activist, a dwarf, and many others are on the boat. 
This film has it all: reflections, love, deceived expectations, prejudice, old age, and passion. It's so expressive; it's breathtaking!
Ship of Fools is a worthy end to Vivienne's film career. 
That Hamilton Woman (1941) 7.2 IMBd
Vivien starred in this exquisite romantic drama alongside her husband, Laurence Olivier. The action of the picture takes place during the Napoleonic wars. "Lady Hamilton" – the real story of the scandalous romance of the British Royal Navy officer, Lord Horatio Nelson, with the beautiful Lady Hamilton.
It is the favorite film of Winston Churchill, the Prime Minister of Great Britain. They say he watched it more than 80 times!
Waterloo Bridge (1940) 7.8 IMBd
This picture is a beautiful adaptation of the play by Robert Sherwood.
The film takes place during the First World War. Vivien Leigh plays a young ballerina who falls in love with a British officer.
He proposes to her and soon leaves for the front. Having learned about the student's affair with the military, the stern teacher excludes the girl from the ballet troupe. And then comes the news of the death of the groom. 
It is a film for the soul and heart. Even though this movie was made long ago, it highlights intense problems and human anguish. I sincerely think that Waterloo Bridge is for all time.
A Streetcar Named Desire (1951) 8.0 IMDb
Elia Kazan, who directed the Broadway production of Tennessee Williams' high-profile play, also filmed it.
For this picture, Vivien Leigh received her second Oscar for Best Actress. She played the role of the fragile and emotional Blanche Dubois. Blanche moves in with her sister and runs into her rough, hard-working husband, Stanley.
Simple, handsome, and perhaps even primitive, Stanley cannot stand the mannered Blanche. Inappropriate antics of a woman cause disgust and bewilderment even among the viewer. But these feelings soon turn into pity and regret because an unfortunate, broken woman gradually appears before us. Blanche is a wounded, restless creature that no one has ever pitied and never will.
In my opinion, it is a ferocious movie. But, of course, there is no blood or murder in the film. But in fact, it is more terrible because there is a murder of the human soul before our eyes.
Gone With The Wind (1939) 8.1 IMBd
"Gone with the Wind" is an absolute Hollywood classic. Almost 4 hours long, the stunning film shows the Old South with its cotton plantations, on which blacks work under the scorching sun; we see beautiful estates with white columns, luxurious outfits of sophisticated ladies, and imposing gentlemen and Scarlett.
Despite the film being set in the 1860s, Scarlett is a 20th-century woman. She is a stubborn rebel who plays by her own rules. Gone with the Wind won Vivien Leigh the Academy Award for Best Actress. But most importantly, the stunning beauty will forever remain in the audience's memory as one of the most powerful heroines in cinema.
I wrote Scarlett O'Hara character analysis; you have to check it out if you are a fan of this picture.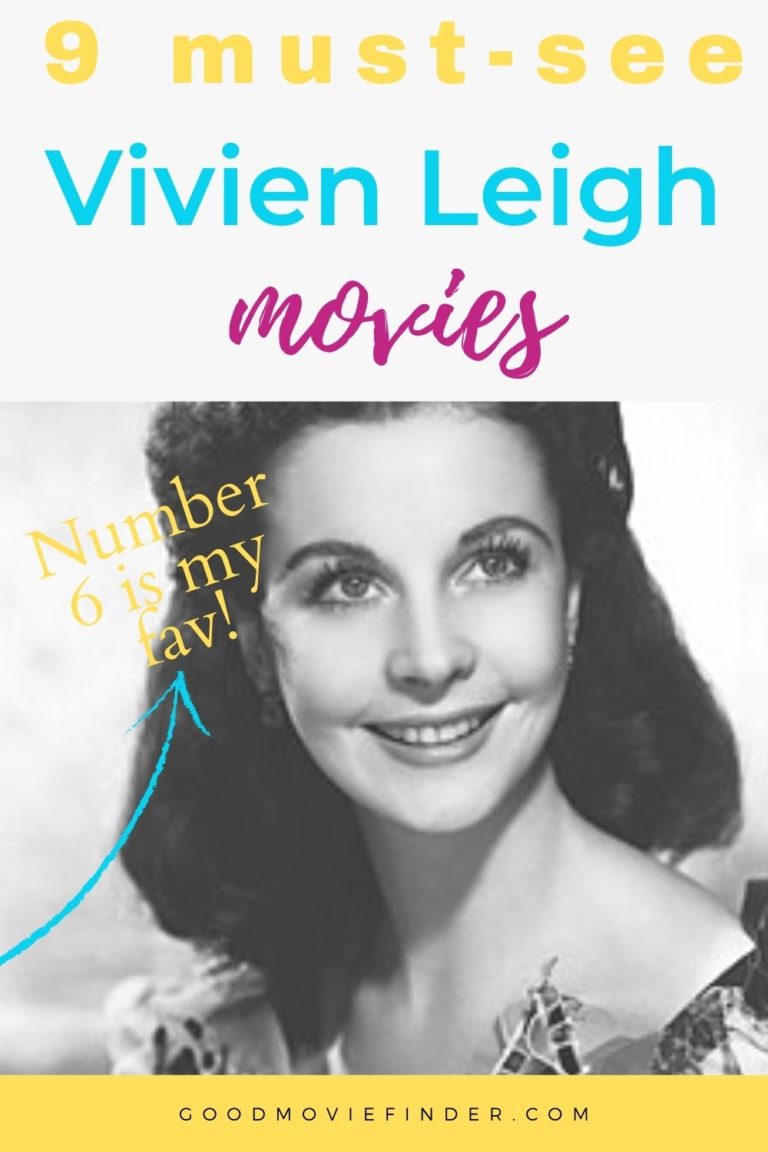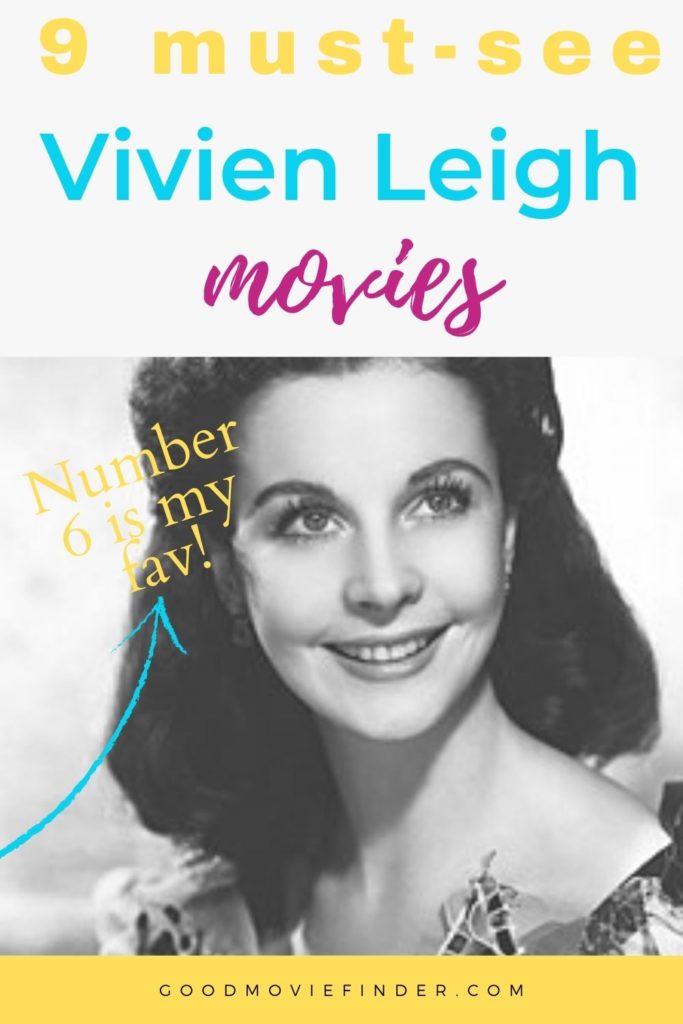 Bottom Line.
What movies with Vivien Leigh have you seen? Which picture did you like the most? Write a comment below.
I hope this article will inspire you to watch something new and discover the new Vivien Leigh.
Share this blog post if you enjoyed it. I would really appreciate it!