Is there a way to watch movies without snacking? If there is, I haven't found it yet. 
Do you also love snuggling up and having a snack with your movie? Me too. That's why I rounded up a whole bunch of healthy movie night snacks that won't make you feel like you are being good at all.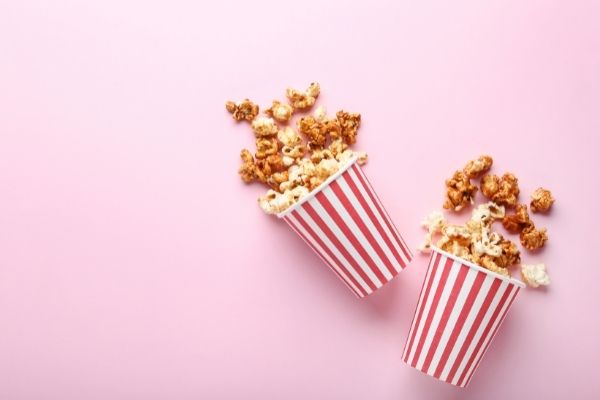 Air Popped Popcorn.
Is there anything more iconic than popcorn and a movie? It's the perfect movie snack, but that microwave popcorn (with extra,theater-style butter) is full of calories and fat. 
That doesn't mean you have to give up your popcorn, and it doesn't have to be bland at all. 
I love plain air-popped popcorn, but I also love to season it up. So here are some different, healthy ways you can have popcorn. 
You do not even need an air popper for this kid-friendly popcorn mix. It is naturally gluten-free. While it uses a more sweet breakfast cereal, it's only used for sprinkles and can be easily omitted if you are trying to cut added sugar. 
Have you ever had spicy popcorn? If you have given up chips, these really hit the spot when I want some spicy chips. The crunch and flavor are perfect. You can make this ahead and have a big batch for a couple of movie nights. 
This post contains the recipes for four different recipes that have all been winners in my books. The Smoky BBQ is deep and rich in flavor with just a hint of spice. You could also try the Parmesan Garlic, which is great on popcorn and pasta and pizza. 
If you are looking for a sweet snack, the cinnamon and sugar one is perfect, even if it is a little bit on the less healthy side. The Peanut Butter popcorn seasoning is surprisingly good! 
Sugar-Free Sweet and Salty Popcorn
You can skip all the sugar in this popcorn recipe by using agave. This recipe is best served warm, so make it right before streaming your movie. If the mixture is too thick, you can thin it with a little more vegan butter. 
Keto-Friendly "Popcorn"
Don't think I have forgotten you, my Keto and Low Carb friends! This Keto-friendly "popcorn" uses meringue for the popcorn base. I think that is super creative! This recipe takes only four ingredients and is easy to put together. You do need either a hand mixer or a stand mixer. You could even use the popcorn flavoring from above to take it to the next level.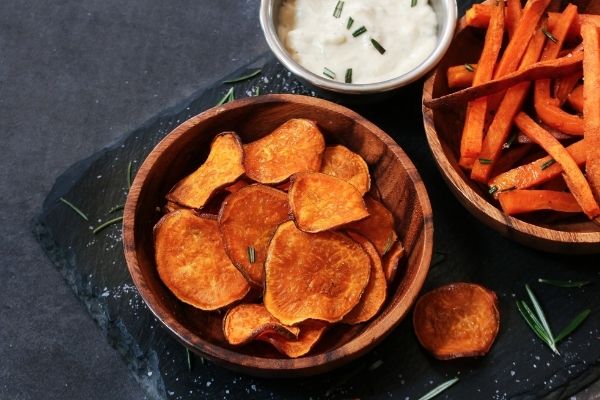 Chip Alternatives.
If popcorn isn't your thing, but you still want something crunchy, these chip alternatives will be a perfect healthy snack for your movie night. 
This list includes chip dupes, pretzels, cheese straws, roasted chickpeas, and feta dip. Of course, it isn't all chips, but they all satisfy that crunchy, savory craving that you usually reach for chips to satisfy. 
Gluten-Free Vegan Doritos Dupes
I love this copycat recipe because it is easy and healthy. If you are looking for a vegan alternative to Nacho Cheese Doritos, this recipe is for you. The flavor is right on the money, and it is baked instead of fried. 
These are perfect if you are doing Keto or trying to cut carbs. These thinly sliced zucchini crisp up absolutely perfect without any additional breading. Try the savory popcorn seasonings like the parmesan and garlic on these. They are perfect together. 
These sweet potato chips as a healthy movie snack are a real crowd-pleaser. They are Keto-friendly, but they are also whole 30, paleo, and vegan! They are great for even the thick salsas and dips. 
Veggie Straws are great, but these Cheese Straws are so light and buttery that they are a great savory snack for movie nights. The chili powder and black pepper give them just the right amount of kick. 
These do contain flour. If you are low carb or Keto, you need to give these a skip. But you might be able to replace regular flour with almond flour.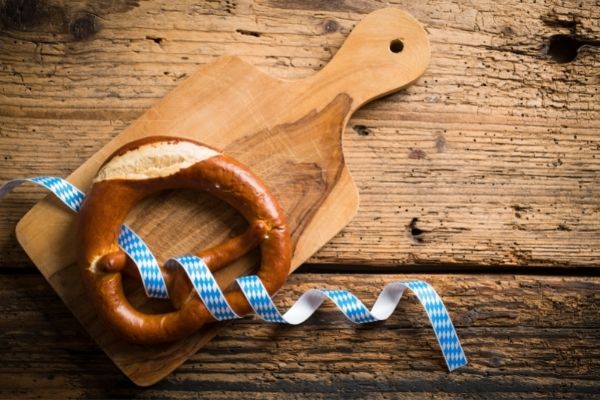 You can bake these Honey Mustard Pretzels in an oven, or for extra flavor, you can smoke them with a pellet smoker. These things are so addicting! Definitely extra yummy for your salty, crunchy movie night craving. 
If french fries are more your craving, try these sweet potato fries that you can make in your air fryer. They are already healthier than their deep-fried, white potato cousins. Try out different seasonings to give you another flavored sweet potato fry. These are best served fresh. 
This feta dip is to die for. The grown-up dip of your dreams is with feta, cherry tomatoes, fresh basil, and olive oil. It is so yummy and melty. 
Spicy Garlic Roasted Chickpeas
Chickpeas are for so much more than hummus. These are great for peanut snackers and other people who love crunchy snacks. 
They are so simple. You just put chickpeas in the oven to roast, then right before they are done, pull them out and toss them with the seasoning. 
It takes almost no prep time, and this snack is great to make ahead of time.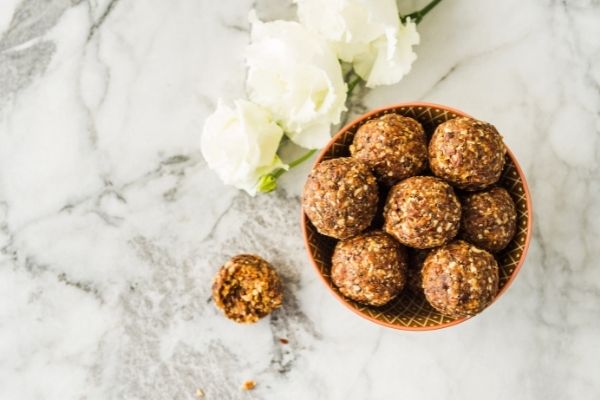 Sweets.
Are you more of an ice cream and sweets movie snacker? Don't worry. I haven't forgotten you! 
I rounded up some killer, healthy sweet snacks perfect for any movie night, but especially a stay-at-home date night! 
Chocolate chip cookies that are healthy? Say less. 
I love how soft and chewy these cookies are while still being paleo. They are also vegan, grain-free, and gluten-free! 
Jennifer at A Sweet Alternative has even given you tips to make this nut-free if you have any allergies. 
Movie night with the kids means loading up on sweets? It doesn't have to be that way. 
These fruit kabobs are sweet and super cute. You can prepare these cute snacks early and serve them at your movie night with your kids. 
Are you looking to up your protein? These protein-packed balls will satisfy your craving, especially if you are looking for some chocolate. 
They are a no-bake snack makes them an automatic winner in my books. 
No-Bake Healthy Chocolate Chip Blondies 
Another no-bake chocolatey treat for you is these sweet blondies. If you have a sweet tooth, these are perfect. 
You can pair these with some fresh berries for the perfect movie treat. I think these are so easy to make, and they are the perfect amount of chocolate without being overpowering. 
Frozen Yogurt Bark with Berries and Chocolate 
I couldn't end this list without including a frozen treat. I am all about easy-to-make recipes, and this one is super simple. 
You can exchange your yogurt with Greek yogurt to increase the protein if you choose. No one will ever notice the difference. 
It is such a light dessert that it won't leave you feeling anything other than refreshed, and that sweet tooth will definitely be solved.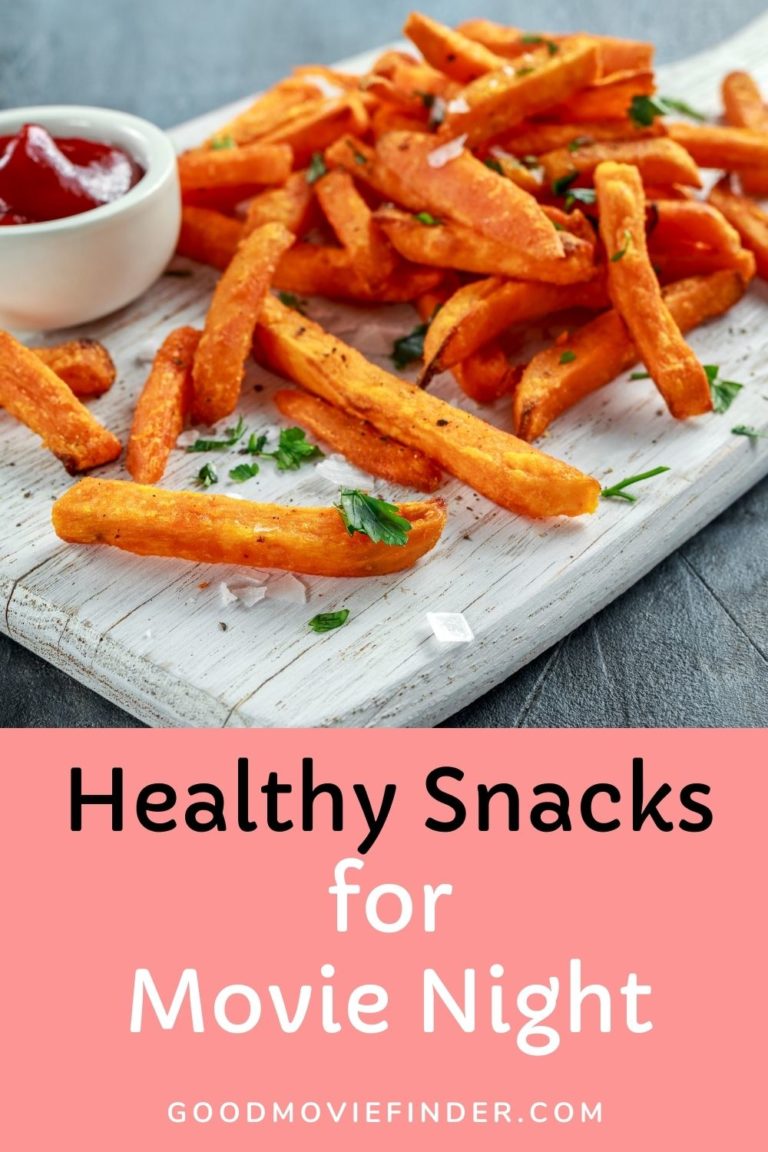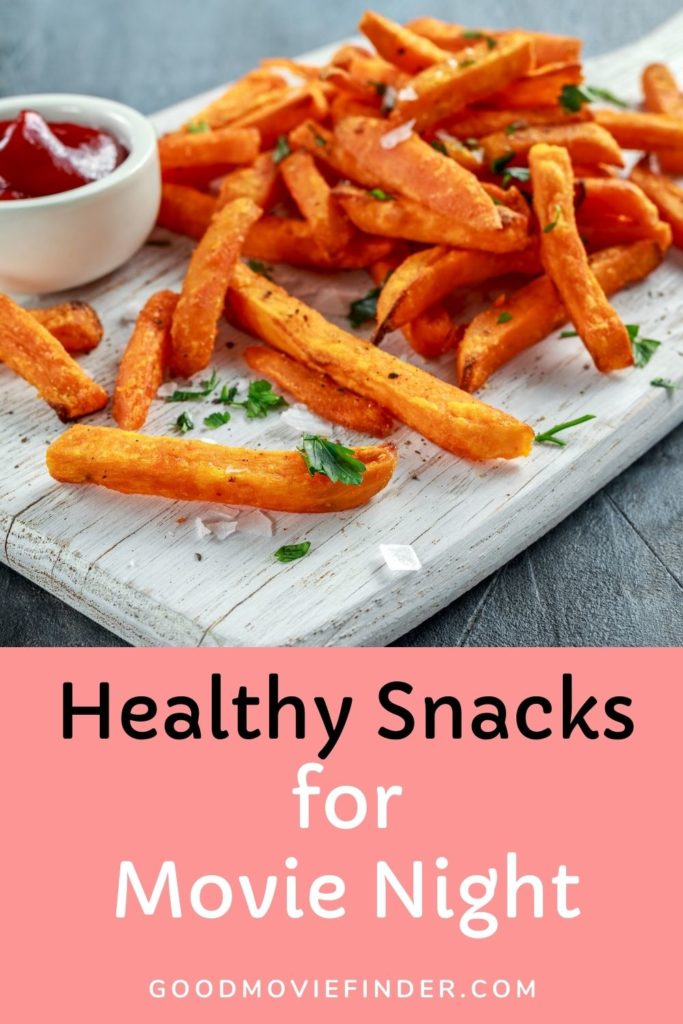 Final thoughts.
Eating healthy and having yummy movie night treats do not have to be opposites. I hope this list of treats covers all your movie night munchies, including crunchy, sweet, savory, and salty. 
You can't beat these healthy movie night snacks! 
Share this blog post if you enjoyed it. I would really appreciate it!