The Father (2020) is a story about autumn of life in which dementia is shown through the patient's eyes.
This drama directed by Florian Zeller, starring Anthony Hopkins and Olivia Coleman.
The Father has six Oscar nominations, which is quite unusual, especially considering that the film is not American but European.
The tape is based on the play of the same name, which is still being successfully performed in theaters worldwide. Almost all of its actions take place in the same apartment. However, despite this, the film turned out to be quite dynamic.
Today I want to share with you my The Father review.
Pardon me for breathing.

The Father
The Father plot.
All events unfold before the viewer as if through the eyes of the hero of Anthony Hopkins. Together with him, we find ourselves in a labyrinth of impending madness. Yet he is still cheerful and swaggers, quarreling with his daughter and habitually humiliating her. Still, we find ourselves when it becomes evident that the mental extinction of the hero is rapidly progressing.
Hopkins, 83, is acting out the emotional spectrum of an aging person. He does not follow the language, gets angry, flaunts, shouts – to be noticed, counted, and remembered.
How many years did Anthony spend at dusk? We don't know that. There is no clear chronology of his disease's onset, development, and progression in the film. Anthony himself confuses everything, does not recognize people, forgets what his daughter looks like. Like many people with dementia, he is overcome by fears. Convincing or proving something is not possible, and now all the enemies.
The father's condition breaks his daughter's heart, who, trying to help him, becomes the main target of his brutal temper. Olivia Coleman plays a no longer young woman, on whom too much has fallen. She loves her father and wants to help him, but she is powerless, and life goes on as usual and will not wait for the heroine to figure it out. It's a human pity for her, and I just want to hug her. I was very moved by the moments when a sincere smile appeared on her face in response to her father's compliment. It can be seen that she lacked the attention of her father.
In the ending, you will discover the very essence of existence, which looks tragic even without artificial enhancements of drama. If we manage to live to a ripe old age, we all become similar to ourselves in the first years or even months of life.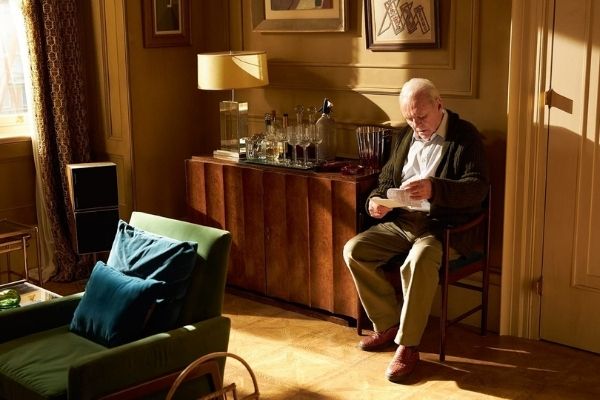 My thoughts.
I confess I cried in the finale, realizing at the same time how subtly I was manipulated with the help of a great acting game, a tear-squeezing plot, and a sad soundtrack. So yes, the film hits pain points.
It is a tough and, at the same time, honest movie about old age and dementia. Understanding what is happening in the mind at such critical moments is necessary.
The Father is similar to the wonderful Love by Mikael Haneke in terms of mood. It is also an important picture that reveals the hardships of the elderly.
While watching the film, the thought flies through: "How I don't want to grow old," and I wanted to think about declining years after watching it. 
My grandmother spent the last five years in dementia. It was hard for my family, but I didn't understand what she went through. It is not his fault that he no longer recognizes you, that he has to repeat the same thing hour after hour, day after day …
The Father could be an educational dementia movie, or we can use this movie for cinema therapy. 
By the way, did you know that at the doctor's appointment, Anthony gave his date of birth – Friday, December 31, 1937? On this day, Anthony Hopkins was born. Director Florian Zeller sent Hopkins the script back in 2017 and waited a long time for an answer without offering this role to any actors. Hopkins agreed.
If you want to know more about dementia now – check out this article.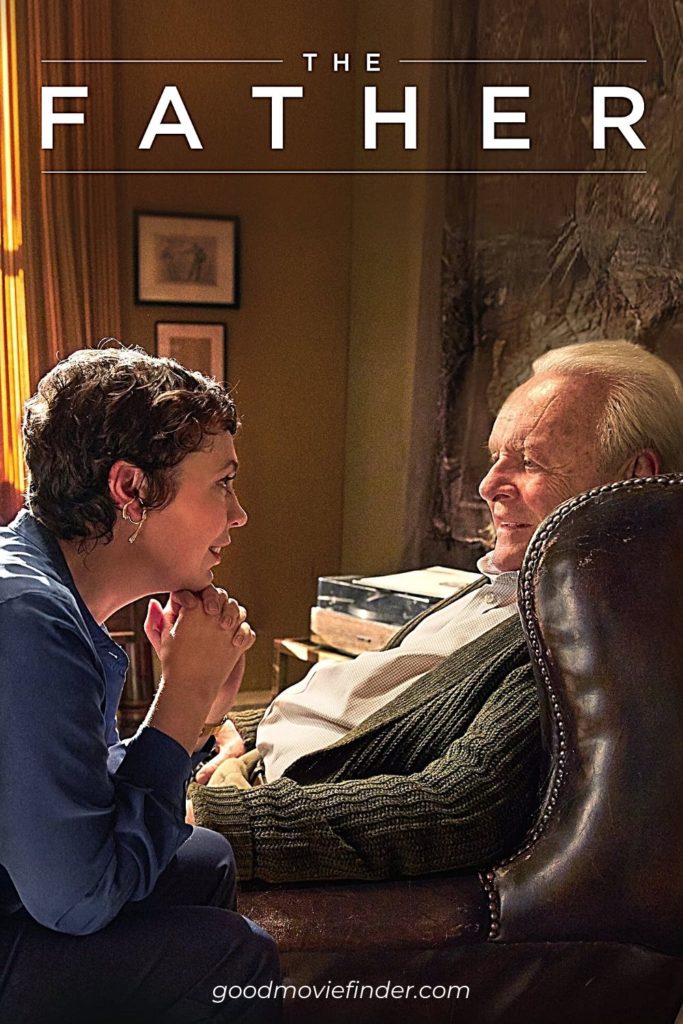 P.S.
Dementia is not the easiest topic to watch out for and is hard to advise.
The Father is an uncompromising film, shot with due respect, warmth, and humanity, with unexpected notes of black humor, leaving you in a state of confusion. The viewing experience is likely to be sporadic but worth it. It is by far one of the best feeds of 2020.
I recommend this excellent film to absolutely everyone. Also, I love the music for this film by one of my favorite Italian composer Ludovico Einaudi.
Did you watch The Father? What do you think about this movie? Leave a comment down below.
Share this blog post if you enjoyed it. I would really appreciate it!