Love is a wonderful feeling that inspires and improves the world. I greatly enjoy good love stories, and I am sure they do not leave you indifferent either!
It's cool to feel the strongest emotional tension, to wait with bated breath when love overcomes all obstacles, to cry out at last – isn't it bliss!
So if you're on the hunt for romance movies that make you cry, you're sure to find a good deal on my list. Sad or happy tears with love inside your heart!
And there is a great list of emotional romance books for novel lovers.
12 Romantic movies.
Winter`s Tale (2014)
IMDb 6.1. Directed by Akiva Goldsman, starring Colin Ferrell, Jessica Brown Findlay, and Russel Crowe. 
Peter Lake is a talented thief who never thought the charming Beverly Penn would steal his heart.
But their love was born under an unlucky star: Beverly is dying before our eyes from an incurable disease, and Peter is destined for a much more cruel death at the hands of his longtime mentor, the demon Pearly Soames.
Peter desperately tries to save his true love: through the ages against the forces of darkness, even though Perly does everything in his power to prevail because the winner takes all, and the loser will be damned forever.
An experienced director and screenwriter, Akiva Goldsman, retelling Mark Halprin's story, interprets some events in his way. But, like the author of the original source, he does not doubt the power of eternal love.
Winter's Tale is a film-mood pure fairy tale. There is nothing logical there, but there is a miracle—that most correct miracle, which, at times, one desperately wants to believe.
It is also impossible to pass by the musical accompaniment, which not only emphasizes the atmosphere and feelings of the characters. Nothing is surprising here because Hans Zimmer himself had a hand in writing the soundtrack for the film.
The Vow (2012)
IMDb 6.8. Directror Michael Sucsy, stars are Rachel MsAdams and Channing Tatum.
While on their honeymoon, Paige and Leo are involved in a car accident. While his wife is in a coma, Leo does not leave her bed for an hour, but the girl's return to life is overshadowed by memory loss. She does not recognize her beloved and does not remember their romance. And then Leo decides to re-win Paige's heart.
It always hurts when there is no more love: when it leaves, passes, becomes covered with dust, or disappears. But in the case of Leo and Paige, there is love; at least, it was yesterday. There was a lot of it, and it would be enough for the whole world.
Yesterday, Paige swore she was ready to live where it was good for his heart and consider it her home. And today, she can claim only one thing: she has no idea who he is. So what is it: a bad joke? Tragedy? The game? Trial? No matter what you call it, whatever it is, it's just terribly unfair!
Perhaps Paige and Leo don't have a yesterday anymore, but they do have a today that will become their new yesterday tomorrow!
By the way, The Vow is based on the true story of Kim and Krickit Carpenter. In September 1993, 10 weeks after their wedding, the couple was in a car accident. Krikit could not remember her husband. After a medical examination, it turned out that 18 months of her life were erased from her memory, those 18 months during which she met, fell in love, and married Kim. 
Kim did not give up, even when, in the eyes of his beloved, he did not see the warmth he was filled with. Although the couple was very religious, Kim claims faith in Christ helped them get through this test.
One Day (2011)
IMDb 7.0. Directed by Lone Scherfig, starring Anne Hathaway, Jim Sturgess, and Patricia Clarkson.
Emma is romantic, sharp-tongued, and wants to improve the world. Dexter is a playboy, a minion of fortune, and wants the world to be his.
Emma and Dexter met on July 15 at college graduation and only spent one day together. And then the night came, and they decided to remain friends.
We will see them on the same day in a year, in two., etc. But how many years must pass for them to believe in their love and understand how much this ONE DAY meant to them?
The life of heroes flashes before our eyes like a whirlwind. They're growing up, making the first steps in this world and a career. But still feel constant warm feelings for each other that connected them all their lives.
This movie is about life and love, how important it is to see the true nature and essence of things, and how important it is not to miss the moment. Emma and Dexter have been together but have not done the most important thing. 
They walked hand in hand, but without holding them, they walked in parallel, not intersecting.
This film has an incredible, enchanting atmosphere. Even some forgotten spirit of antiquity. All these narrow streets of London and Paris, the alluring charm of the two ancient capitals of Europe. The music also touches the film, giving it a sense of fairy tale and romance.
The Best of Me (2014)
IMDb 6.6. Directed by Michael Hoffman, the stars are Michelle Monaghan and James Marsden.
Amanda and Dawson met, fell in love, and lost each other, and it seemed, forever. And now, after many years, they are called to the funeral of their mentor, where they meet and remember the way to each other.
Awesome! Incredible! To tears, goosebumps, burning pain in the soul, and sediment at the film's end. The storylines that unfold throughout the film are very touching.
There is a place for the first beautiful love in the center of the picture. However, the director went beyond "pretty eyes and kisses." It raises the issue of domestic violence and questions of friendship, guilt, and pain. He generally questions what is our whole life: fate or chance?
The Best of Me is a vivid example of love capable of sacrifice for the sake of a loved one. The film is filled with love and unrealistic coincidences in the main characters' lives. As usual, despite all the drama and tragedy, the film ends positively; however, like all Sparks films.
Tristan + Isolde (2005)
IMDb 6.8. Director is Kevin Reynolds, starring James Franco, Sophia Myles, and Rufus Sewell.
Tristan, raised by Lord Mark, fights the army of the Irish king. One day, the daughter of King Isolde finds him off the Irish coast. Love develops between them.
The king is about to marry his daughter to one of the British lords. Now Isolde should go to Lord Mark.
Tristan and Isolde' is a picture that captivated me at the end of 2007. This film left amazing, unforgettable impressions in my heart and became one of my favorites.
It is not some ordinary melodrama but a whole story of true love that deserves respect!
The acting is terrific; they gave their best and did a great job creating unique and romantic images! The story is very tragic but damn romantic! And this movie brings different emotions, thoughts, and feelings!
The Lake House (2006)
IMDb 6.8. Directed by Alejandro Agresti, starring Sandra Bullock and Keanu Reeves.
After breaking up with her boyfriend, Kate Forster starts everything from scratch. First, she leaves a letter in the mailbox for the next tenant, explaining some of the nuances.
The new resident is Alex Wyler, a lonely architect whose father built this beautiful house. He reads the message but cannot understand why what Kate described does not match reality. It prompts Alex to write an answer.
After a few days of correspondence, the characters realize that they live in different times: he was in 2004, and she was in 2006. And only a mysterious mailbox serves as a connecting bridge for them.
It is one of the most touching love stories I have ever seen. Sandra Bullock is excellent, as always. She coped with the role 100%. Keanu is also well done, and he did not let us down. I will not even find fault with the time machine because it is absolutely not important against the backdrop of the whole picture.
For simplicity, genius, and the triumph of love, I put 10 out of 10.
There is so much romance, sincerity, and sensuality here that tears well in your eyes when you look at it.
Personally, I associate House by the Lake with one-word TENDERNESS.
Just Like Heaven (2005)
IMDb 6.7. Directed by Mark Waters, the stars are Reese Witherspoon, Mark Ruffalo, and Donal Logue.
We are shown the story of a girl, Elizabeth Masterson, who wanted to be enrolled in the state – she spent more time on the sick than herself.
She had no time to live for real and never had a boyfriend. No one said to her, 'I love you.' She was sad, without noticing it herself. She fell asleep at work in an embrace with a salad. She was just invisible.
And then fate gave her a second chance – to meet a new person, find herself and understand the essence of all life.
It is just an incredible comedy – you can relax and laugh while watching. The movie is light, enjoyable, kind, and can be naive and predictable.
This film is like a gentle breeze enveloping you from head to toe, immersing you in a pleasant mass with your whole body.
From the film's first minutes, you understand that you find yourself drawn into the magical atmosphere of romance and mysticism against the backdrop of everyday life.
If Only (2003)
IMDb 7.0. Directed by Gil Junger, starring Jennifer Love Hewitt and Paul Nicholls.
Life is such a thing that does not give us a second chance and does not allow us to fix what has already been done. Oh, we often think: "If only I could do something, I would definitely do it; I would act differently." 
But in the cinema, everything is possible, and it's terrific. So the film's heroes were given another chance, and we will have to see whether they took it or not!
If Only is a very tender, touching, beautiful film that leaves no one indifferent. After watching, a bitter residue remains on the soul, and tears well in the eyes.
The film evokes fundamental thoughts about the value of love and some people's attitude toward it. But, alas, many have forgotten how to perceive this feeling as a gift and treat it as something normal that will not go anywhere or be taken for granted. And it's sad. After all, love is a gift!
If Only is not only a film about love; it is about life, time, and how we sometimes forget about our closest, dearest, and beloved people in the daily hustle and bustle. 
Also, I can't ignore the fantastic songs of Jennifer Love Hewitt, "The Love Will Show You Everything" and the amazing "Take My Heart Back."
The Great Gatsby (2013)
IMDb 7.2. Directed by Bar Luhrmann, the stars are Leonardo DiCaprio, Carey Mulligan, and Joel Edgerton.
1922, cheerful young man Nick Carraway, dreaming of becoming a writer, caught a house on Long Island. On the other side of the bay lives his relative Daisy, who married Tom Buchanan, a self-confident old-money scoundrel. And behind the nearest fence, built under a medieval castle, stands the mansion of Jay Gatsby, a mysterious rich man who throws parties every day but supposedly stands alone on the pier.
The tragedy of Jay Gatsby is the tragedy of an entire lost generation. An idealist and romantic, a man with a fantastic breadth of views, he cannot get along in his contemporary society. It seems to him faceless, boring, empty, and useless.
His subtle soul demands otherwise. Something real, unspoiled, natural, and deep. He sees it in Daisy Buchanan. He creates an ideal out of her, but she turns out to be a simple empty shell, not realizing all the breadth of the soul and the originality that a person possesses that has loved her so sincerely and strongly for many years. She doesn't need it. She is comfortable in the conditions she lives in and does not want to change anything.
For me, it is a devastating film that takes away hope. But you can judge not only by the example of Gatsby but also by your thinking of what a powerful force it is – an illusion. 
No tangible, authentic charm can compare with what a person can accumulate in his imagination.
Ghost (1990)
IMDb 7.1. Directed by Jerry Zucker, starring Patrick Swayze, Demi Moore, and Whoopi Goldberg.
It is a story about love that goes even beyond death. This touching tale is the perfect movie and a must-see for every romantic movie buff!
Sam and Molly are happy and madly in love with each other. However, on the way home to their new apartment after an evening at the theater, they are attacked by a mugger in a dark alley, and Sam dies defending himself.
He discovers that he has become a ghost and realizes that his death was not an accident. So he must warn Molly of the danger she is in. But, as a ghost, he cannot be seen or heard in real life, so he tries to communicate with Molly through Oda Mae Brown, a female psychic who still isn't sure her power is real. 
Ghost was not designed to be depressing. On the contrary, this picture can get out of severe depression, showing that love is stronger than death. 
With this in mind, let's not forget Patrick Swayze. He did not care about himself in recent months, but he wanted to please the audience at least once again by appearing on the screens. And we will be grateful to him for that.
Ghost is a film about love, pure, sincere, fabulous, and seemingly unreal, making you empathize, tremble, wait, and hope.
Death is no barrier to true love. True love has no limits.
Anna Karenina (2012)
IMDb 6.6. Directed by Joe Wright, stars are Keira Knightley, Aaron Taylor-Johnson, and Jude Law.
Meeting his mother, who arrived from St. Petersburg, the young officer Count Vronsky meets the wife of an influential St. Petersburg official, Anna Karenina. 
The fire of passion flares up instantly, but their love shocks high society. She will have to make a tough choice between family and all-consuming passion in a world ruled by prejudices and stereotypes.
The new Anna Karenina openly admits its attempts to express the most profound component of Tolstoy's work through solid visual images while always remembering what year it is.
The memory of this manifests itself in the form of conciseness of ideas, which are presented in full color in the original source. Less depth and maximum feelings, but this does not mean that the picture of Joe Wright is devoid of soul. On the contrary, he concluded it in an ever more vivid illustration of the era, strong in terms of pictorial representation of which fascinating and convincingly performed characters.
The delightful Keira Knightley became a genuine sensation in this theatrical production.
And the fantastic music of Dario Marionelli. I think Marionelli, being Italian, deserves the highest praise for creating music with Russian motifs that could easily be mistaken for original ones.
Let's be right to say that the new Anna Karenina, a dynamic, sensual, graceful painting, captivating with beauty and originality, with its bold, innovative presentation, was a fantastic version that gave us.
I`m Russian, and Anna Karenina story is one of the tragic romance movies that make you cry.
Brokeback Mountain (2005)
IMDb 7.7. Directed by And Lee, starring Jake Gyllenhaal and Heath Ledger.
Against the backdrop of the picturesque expanses of Wyoming, the story of a complex relationship between two young people – an assistant rancher and a rodeo cowboy – unfolds. The heroes meet by chance and soon realize they cannot live without each other. However, fate stubbornly tests them for strength.
With an almost complete absence of explicit scenes, the picture is full of emotional tension and deep feelings. At the same time, the script of the film reveals several levels of relations between the characters, where, along with the main line of love of the main characters, their complex relationships with wives and children, families, and parents develop. Each level has its conflict, drama, passions, and outcome.
The fact that Ang Lee received an Oscar for this film is the highest justice. After all, he cut out all the explicit scenes, briefly commenting – The movie is not about that. And he turned out to be right. 
What remains in the film – episodes in a tent, passion after a 4-year separation – all carry a colossal semantic load; without these scenes, we would not understand anything.
Ang Lee robbed the film of the vulgarity and sugariness that many have been waiting for to criticize the movie to the nines. For what? Please note that the main characters never say words like 'I love you, 'I can't live without you, 'I missed you. But we still know their true feelings. Through gestures, looks, facial expressions, short phrases, and small actions, we feel the electricity that comes from the characters.
In general, love is a force of nature. And there is nothing to worry about if, at one point, you realize that being a quite nice guy, you are in love with the same lovely guy.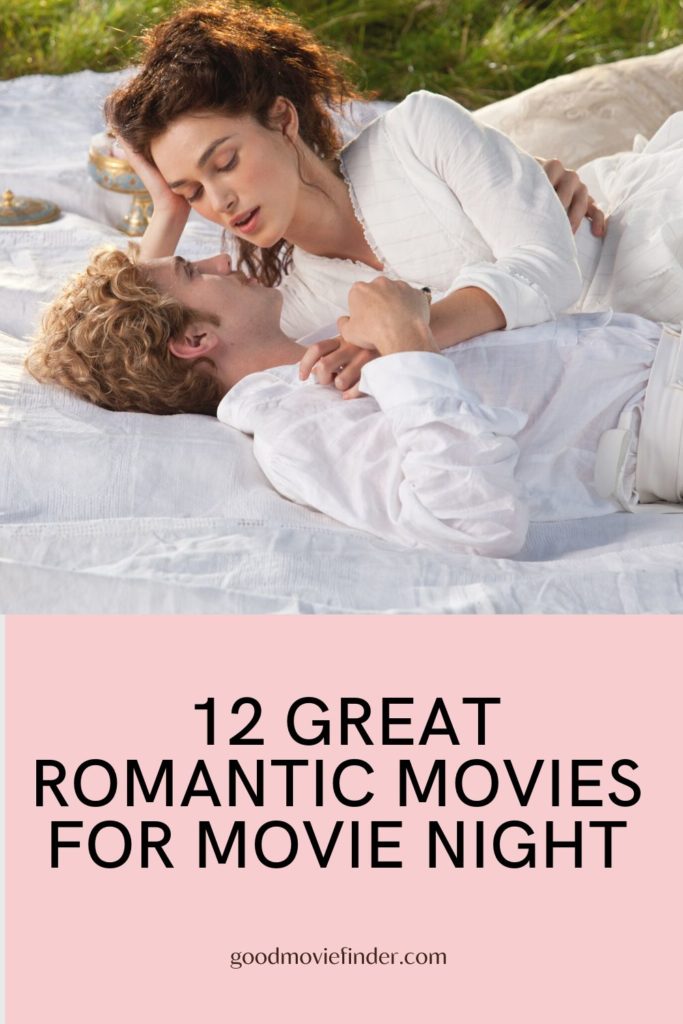 ALSO READ
15 forbidden relationship movies with tragic endings.
P.S.
Do you like romance movies? Did you see any of these films? Write down in the comments.
Check out my article with tips for a romantic movie night at home and enjoy an intimate evening with your loved one this weekend.
Share this blog post if you enjoyed it. I would appreciate it!