While everyone was discussing Oppenheimer's box office success and making an avatar in the Barbi style, I was looking for other new movies 2023 made in Hollywood you could miss from the edges of world premieres.
New American Movies 2023.
Knock at the Cabin.
Peacock TV, Prime Video, Redbox., Apple TV or Vudu.
The beginning is so strange that it seems genius.
A married couple with their adopted daughter Wen is relaxing in a small forest house. In the middle of the day, four strangers with edged weapons burst into the hut. But these are not robbers or serial killers. They came only to talk to the couple and their child. With limited access to the outside world, the family must decide what they believe in and make a choice before all is lost.
It is a classic Shyamalan picture with all its advantages: an exciting plot, strange characters and a crazy plot. Everything will be beautifully interesting.
In addition, the film has unusual casting. Former wrestler Dave Bautista plays the most level-headed of the quartet of strangers—a pumped-up tattooed man in the role of a modest intellectual breaks the mold. And the role of the most evil character in the film was unexpectedly played by Rupert Grint from Harry Potter. Familiar actors in roles that are unusual for them charge every scene with wild energy.
Tetris.
Apple TV+
People watch enthusiastically at the game, where colorful geometric blocks fall onto the field, connecting in lines. American entrepreneur Henk Rogers is also impressed, but with his cold mind, he understands that there is no second to lose – this game is just a "bomb," and you need to get it at all costs. 
He will have to fight hard against many rivals whose goal is to own a new product developed by a Soviet programmer.
Tetris is a fantastic movie. Not so much because of its quality, but because of the way, in the current realities the heroes of the British Taron Egerton and the Russian Nikita Efremov calmly get along on the screen and quickly find a common language in the caricatured scenery of the Soviet world, which is on the verge of its collapse.
Tetris is infused with an adventurous spirit and 8-bit style, outstanding soundtracks and an inspiring story.
A Man Called Otto.
Netflix, ROW8, Prime Video, Apple TV or Vudu. 
A Man Called Otto is a heartfelt, sincere, deep film about a lonely old man who is forced to be grumpy and rude due to personal circumstances because he lost his meaning in life. Comedy turns into drama with the magnificent Tom Hanks in the title role.
The film surprised me a lot. I wanted to watch a relaxing movie and enjoy my snacks. And as a result, I got a sincere movie with a great message. There is something to think about.
Beau Is Afraid.
Prime Video, Vudu or Apple TV.
Bo is afraid of taking pills without water, leaving the apartment unlocked, becoming a drug addict, closed doors, missing a flight, etc. You can continue the list with any phobia. But where did all his fears come from? Before us is not the standard story of a poor, unfortunate man who lived to become a noble gray hair but remained a zero without a cane. Instead, we are shown the story of an average person living in a cocoon of fears and doubts.
So, who do I recommend Beau Is Afraid to? For mature, conscious people ready to think and analyze during a three-hour movie. For those who don't faint at the words' abusive mommy and heard about Freud. You will see a truthful selection of all the fears of a neurotic.
Love at First Sight
Netflix.
Hadley and Oliver fall in love during a flight from New York to London. There is only a few percent chance they will ever meet again, but love and London can defy the odds.
The film Love at First Sight is absolute magic, capable of wrapping viewers' hearts in a warm blanket and awakening the most tender emotions. It is imbued with love, which can arise at first sight, such a mysterious and statistically unpredictable force that can connect two souls.
'To have and lose or never to have?' is the question at the heart of the film. And we look forward to the answer that, perhaps, each of us will find in our own love story.
Are You There God? It's Me, Margaret.18+
Amazon Prime Video, Apple TV, Vudu.
Sixth grader Margaret Simon and her family are moving from New York City to suburban New Jersey. Because her mother is a Christian and her father is Jewish, she goes on a quest to discover her religious identity.
It's hard to believe that the famous novel by writer Judy Bloom, published back in 1970, was only able to reach the big screen now. 
Every evening, Margaret turns to God in a kind of prayer, childishly naively talking about her cherished dreams, little secrets, and heartfelt experiences. Like all girls her age, Margaret is worried about the attention of boys, breasts that "are not growing at all," as well as the onset of menstruation and the long-awaited adulthood.
Visually, the film reflects the aesthetics of the 1970s – from the soundtrack to the costumes, detailed streets and color rendering. And there is charm in this.
Sound of Freedom 18+
It is a tale based on true events about former US government agent Tim Ballard, who left the service to devote his life to saving children from sex slavery.
Sound of Freedom is a message first and a story second. The idea of the film is to draw attention and open eyes to the horrors of child trafficking. And the movie does this by showing heartbreaking scenes of children in danger and being fooled by disgusting adults.
Overall, Sound of Freedom leaves a pleasant impression and makes you think. The director shows us how, against the backdrop of everyday modern hectic life, terrible things can happen, almost invisible to the eye.
Past Lives.
Prime Video, Vudu or Apple TV.
From the moment the first trailer for this film appeared, it was clear that this was an unforgettable, deep love story.
Nora and Hae Sung were childhood friends, but their connection was interrupted when the girl moved to Canada with her parents. After 12 years, they resume communication – first on social networks and then spend a week together in New York.
Past Lives is primarily an autobiographical film. Just like the heroine herself, the director immigrated with her parents to Canada. At that time, she was 12 years old, and in her hometown of Seoul, she still had her best friend and first love.
Of course, this film is not only about love and memories. It is also about the difficulties of emigration, including emotional ones.
The film will appeal to viewers who enjoy the slowness of the narrative and the subtlety of human emotions.
Fair Play.
Netflix
Luke and Emily are in a relationship that they hide at work. One day, a position as a manager at a hedge fund becomes vacant, and an unexpected promotion for one of the lovers puts their present and future together into question.
It is a fascinating symbiosis of the subgenres of the corporate and the erotic thriller. The plot is straightforward, but it penetrates the skin – from love and passion to hatred is just a stone's throw away, especially if career heights loom ahead. And the spirit of competition awakened in a couple eats away bright feelings like acid, rudely offering to pay the true price of success.
The cast includes pleasant Phoebe Dynevor "Bridgerton" and Alden Ehrenreich "Solo: A Star Wars Story.» 
Priscilla.
Currently in movie theaters.
What girl doesn't dream of an affair with a celebrity? Young Priscilla's wish came true, and fate prepared for her a meeting with Elvis Presley himself. Now, they are officially America's top couple, but what is hidden behind the façade of a happy life with the idol of the whole country?
Elvis saw her when she was 14 years old. He calls Priscilla just a child but continues to show signs of attention, knowing full well that it is impossible to resist him. From this moment on, the future is predetermined. Cinderella immediately loses her heart instead of a shoe at the ball. But no matter how magical it is to find yourself in a fairy tale, the love carriage will sooner or later turn into a pumpkin.
The movie is filmed like icing on a cake, creating a feeling of rose-colored glasses—the ones Priscilla metaphorically wears.
IF YOU LOVE NEW MOVIES
Top New Detective Movies 2022 For Every Taste.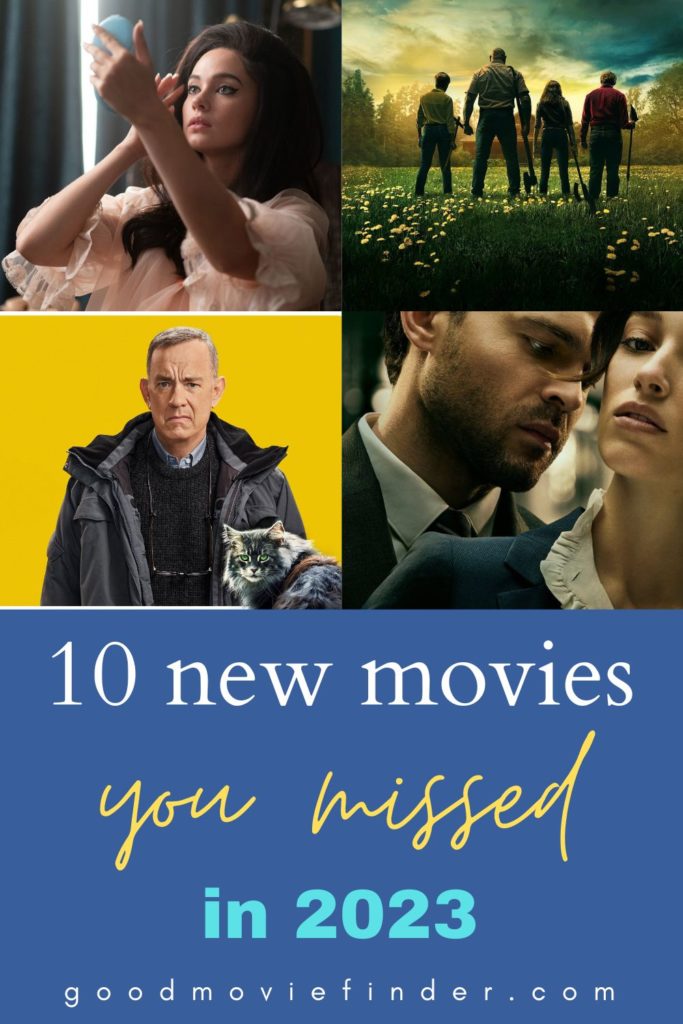 Final words.
I hope you found some great pictures to watch next weekend. Many unrated new movies 2023 from Hollywood are really remarkable.
Share this blog post if you enjoyed it. I would appreciate it!