A luxurious life is very attractive, with expensive houses and cars, parties, exquisite dishes and wines, and sophisticated works of art.
Well, who at least once did not dream of such a life?
And let the mind suggest that true happiness is not in the bright tinsel of life but its deep fullness. Sometimes we really want to dream, especially in the routine in which our average life is enclosed.
In this collection, I decided to collect the best movies with luxury lifestyle to peep into the crazy wealthy life. Also, I want to tell you about my new post about fascinating TV shows about wealth and power.
Beautiful pictures of rich people.
The Bling Ring (2013)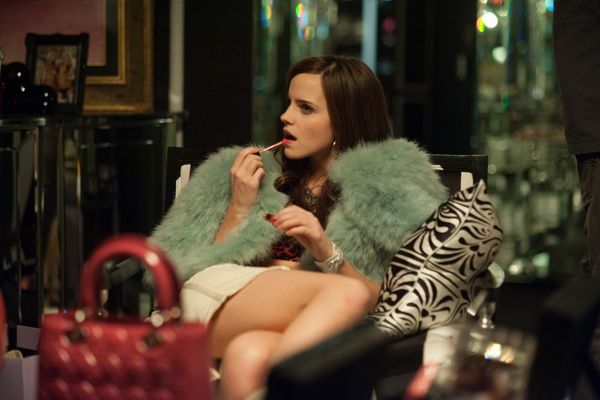 IMDb 5.6. Directed by Sofia Coppola, it stars Emma Watson, Katie Chang, and Israel Broussard.
Five desperate teenagers began sneaking into rich mansions around Hollywood for adrenaline and adventure. They visited Lindsay Lohan, Orlando Bloom, Paris Hilton, and other Hollywood stars.
Girls, of course, were more interested in designer clothes and jewelry, while boys were more focused on just money. The guys wanted to have fun and earn some cash to live the way they show on the covers of glossy magazines.
After committing ten burglaries, the guys stole more than three million dollars. The story of the robbery of Paris Hilton inspired this film directed by Sofia Coppola.
The film attracts because it has no anguish, exaggeration, pathos, or moralizing. Instead, all events are shown as if these teenagers' lives were filmed on a hidden camera so the viewer can watch and draw conclusions. Sofia Coppola showed us a very enticing image with wardrobes and jewelry, showing how sweet the forbidden fruit is.
Would you climb into the house of a fashion star to profit from her clothes?
The Great Gatsby (2013)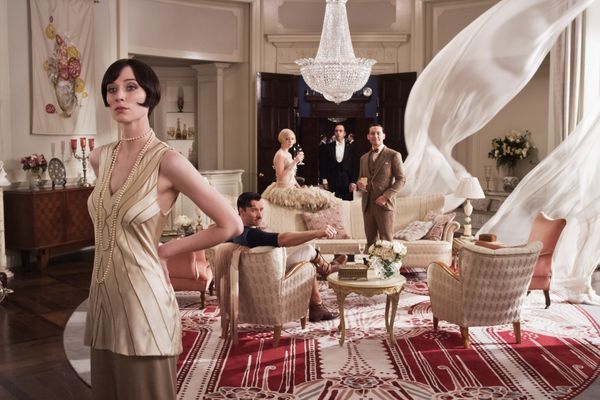 IMDb 7.2. Director Bad Luhrmann, stars Leonardo DiCaprio, Carey Mulligan, Joel Edgerton.
Nick Carraway, pursuing his American dream, moves from the West to the coveted New York. It was the beginning of the twentieth century, the time of groovy jazz, the lack of morality, and the rich who made their fortune on smuggled alcohol. 
Nick was lucky to stay near his sister Daisy, who lived with her dashing husband, Tom, and the area's most famous millionaire, Jay Gatsby. So, without suspecting it, Nick finds himself in a whirlwind of events in the world of the rich and learns their secrets, dreams, and details.
You can't take your eyes off the movie. It is exactly what a film about glamorous, luxurious, and social life should be. Gorgeous mansions, expensive cars, a lot of money, parties, fabulous outfits, and a lot of alcohol.
Fifty Shades of Grey (2015)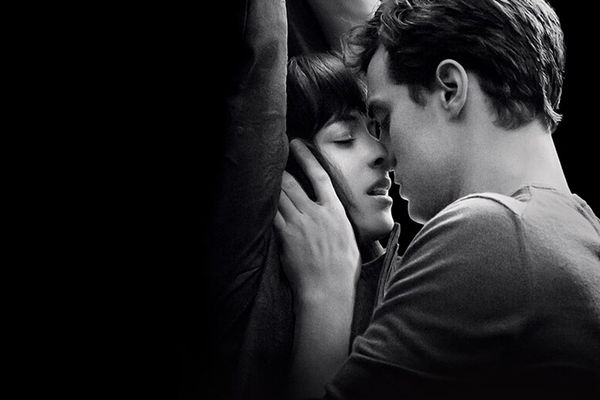 IMDb 4.1. Directed by Sam Taylor-Johnson, stars Jamie Dornan, Dakota Johnson, and Jennifer Ehle.
Shy student Anastasia Steele agrees to help her friend and classmate Kate conduct an interview for her with the young millionaire Christian Grey, handsome and the dream of many girls. The acquaintance is cold, and nothing foreshadows another of their meetings, but young Anastasia sunk into the soul of a millionaire. Nevertheless, their communication continues, and soon the girl will have to find out with whom fate brought her.
Have you ever dreamed of being courted by a wealthy young man? Do you think it is a road to happiness?
The film has sequels: Fifty Shades Darker, 2017, and Fifty Shades Freed, 2018. All three movies show us luxurious life, but in Fifty Shades Freed, we will see the gracious life on a high level!
The Aviator (2004)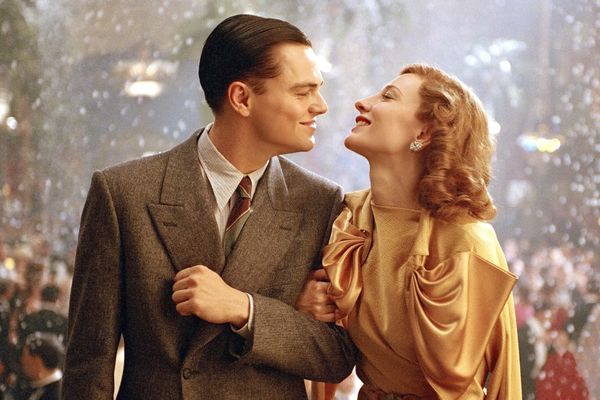 IMDb 7.5. Director Martin Scorsese, stars Leonardo DiCaprio, Cate Blanchett, Kate Beckinsale.
Howard Hughes is an excellent businessman and manager. He inherited a small factory from his father and created a vast and mega-profitable business. As the owner of a film company, he invested in the highest-grossing film in the history of that time. So naturally, the most beautiful and talented actresses dreamed of winning his heart.
Money burns his heart, they haunt him, and his soul is torn up. Only at an altitude of several thousand meters is he thrilled.
This film will also appeal to those who love stylishly dressed people. I wrote about The Aviator in a blog post with movies with great outfits.
Café Society (2016) 
 IMDb 6.6. Directed by Woody Allen, it stars Jesse Eisenberg, Steve Carell and Kristen Stewart.
The action takes place in America in the 1930s. Another young man risks everything by leaving New York to become a Hollywood movie star. His path is not easy, but fate prepares a surprise for the protagonist – falling in love, which will open the doors for him to the most violent secular parties.
Cafe Society is a simple, tasteful film by master Woody Allen that delights in the visual beauty and depth of feeling the film is filled with.
While watching this picture, you can enjoy spectacular juicy shots.
Midnight in Paris (2011)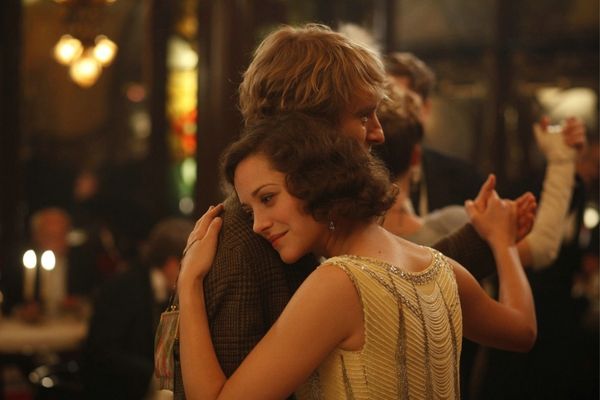 IMDb 7.7. Director Woody Allen, staring Owen Wilson, Kathy Bates, Rachel Mc Adams
The next film is also Woody Allen and touches on the theme of luxury and wealth.
Writer Gil Pender arrives in Paris with his fiancée and her family. Going out for a walk down the street in the evening, he miraculously finds himself in the 1920s, and he manages to meet Hemingway, Picasso, and the Fitzgeralds here. He understands he belongs to this time and wants to stay there forever.
The film has a short duration. An hour and a half go by quickly and intensely. The viewer is immersed in the atmosphere of what is happening on the screen. The picture perfectly captures the spirit of Paris. Views and music convey the fullness of the beauty of this place.
Like all the work of Woody Allen, the film immerses the viewer in a particularly romantic and cozy atmosphere, sometimes even allowing you to feel like part of a bohemian society. It's nice when, in addition to the idea, the creator also cares about the visual aspect, carefully choosing locations and costumes that are the most advantageous for creating the necessary perception of place and time.
Crazy Rich Asians (2018)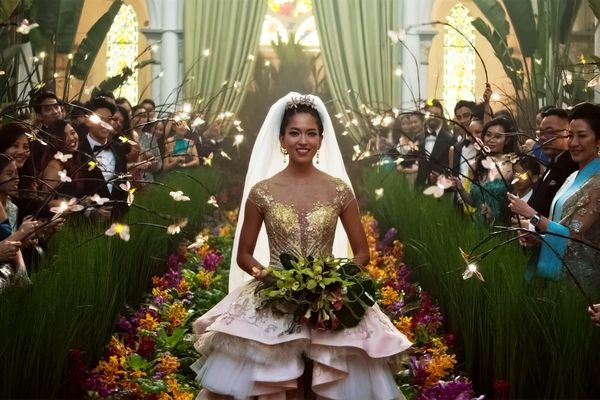 IMDb 6.9. Director Jon M. Chu, stars Constance Wu, Henry Golding, Michaelle Yeoh
Chinese Rachel Chu lives in America. With her boyfriend, she is invited to Singapore for his best friend's wedding. There, the girl learns that her boyfriend is a wealthy man and a local celebrity whom all the girls in the city dream of marrying.
Crazy Rich Asians are based on Kevin Kwan's book of the same name, which became a bestseller in 2013.
In a wonderful oriental fairy tale, wealth and luxury are full-fledged independent actors, and it is they who demonstrate modern Asia. Everything in the frame is well-chosen in color, and the director is proud of the wedding scene.
Crazy Rich Asians is a bright, expressive, graceful creation with good morals. The film does an excellent job of conveying a cheerful mood; debunking boredom is guaranteed.
All the Money in the World (2017)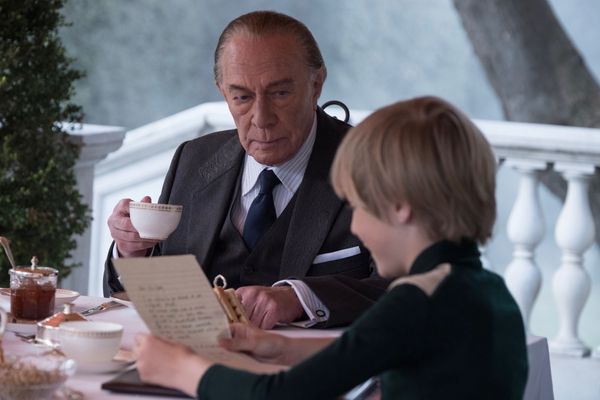 IMDb 6.8. Directed by Ridley Scott, starring Michelle Williams, Mark Wahlberg, and Christopher Plummer
Paul Getty is one of the wealthiest men in the world. Being part of his family is like being a god. But when Paul's grandson is kidnapped in Italy, he categorically refuses to negotiate with the kidnappers and pay the ransom. As a result, only an employee of the oil tycoon's security squad can save the boy.
It is the story of one of the biggest scandals of the 20th century.
Although the film is billed as a thriller, it has everything, both drama and a detective component. Well-developed characters, many memorable scenes, dialogue, and simple tense, sometimes even challenging.
The Wolf of Wall Street (2013)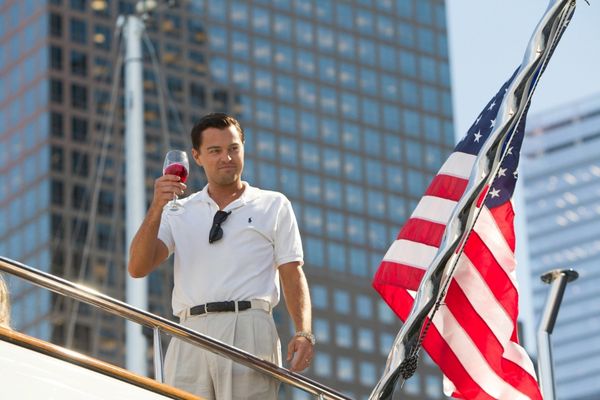 IMDb 8.2. Directed by Martin Scorsese, stars Leonardo DiCaprio, Jonah Hill and Margot Robbie.
The end of the 80s of the last century. The protagonist Jordan Belford gets a job as a broker in one of the successful investment banks. But soon, the bank is declared bankrupt. George is not upset but changes tactics and goes to work in a small investment company. At the same time, the guy finds new friends with whom he decides to open his own business. The business of the new company is flying up. Finally, Jordan is slightly off the hook and begins to burn his life.
Despite the timing of the picture, it captures from the first frames and does not let go until the last. The musical accompaniment is chosen as well as possible. And it is a big bold plus in the treasury of the creators of the action.
The Wolf of Wall Street is a picture of money out of thin air. Money that has nowhere to go, money that gives access to everything. Money, money, money! They are everywhere; in almost every frame, we see money, and if we don't see it, we smell it. Money is the main drug of humanity.
Parties for two million dollars each, crazy trips on yachts, strippers, rivers of alcohol, kilograms of pills, miles of cocaine lanes. Do not be surprised; this is how young millionaires relax.
Wall Street (1987)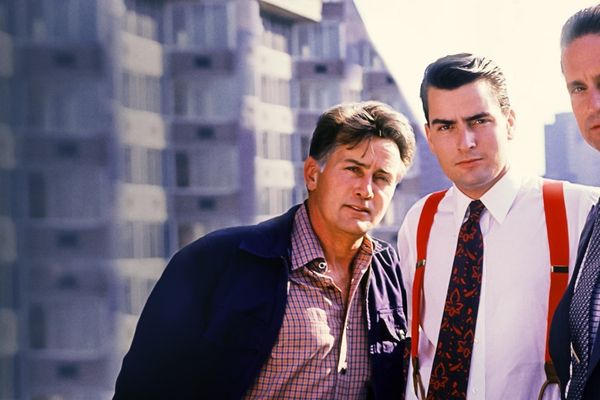 IMDb 7.3. Director Oliver Stone, starring Charlie Sheen, Tamara Tune and Michael Douglas.
Bud Fox, a young and highly ambitious broker, lives in the heart of the world, where everything has a price and can be bought and sold. Nevertheless, he is determined to reach the top, to become the best. To get support, he becomes acquainted with the old predator Gordon Gekko, revealing the secrets of mastery.
Fast money, luxurious women, and all the world's pleasures are in Bud's hands, and the financial flows raging around bring even more money, luxury, opportunities, and temptations.
You just need to overtake this prey. You must forget everything except the primary law: "Greed is good. It works!"
365 days (2020)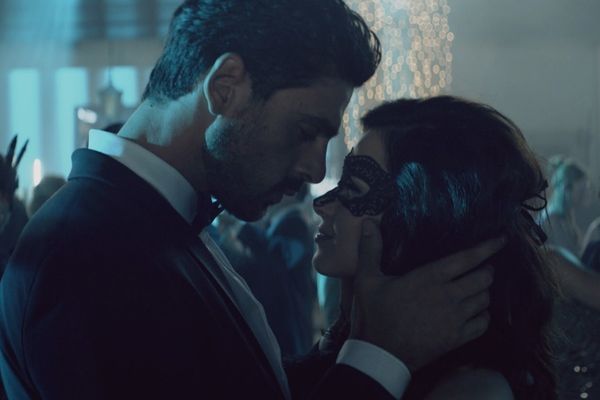 IMDb 3.3. Directed by Barbara Billows and Tomasz Mandes, stars Michele Morrone, Anna-Maria Sieklucka, Bronislaw Wroclawski
Massimo Toricelli is a handsome young boss of a Sicilian mafia family. After the murder of his father by competitors, he is forced to take over his duties. Laura Bel is a sales director at a luxury hotel. She is thriving in her profession but lacks passion in her personal life. So Laura makes one last attempt to save the relationship. With her fiancé and friends, she flies to Sicily, where Massimo kidnaps her and gives her 365 days for Laura to love him.
Oh, this is probably the most unknown but also one of the most beautiful movies with a luxury lifestyle.
365 Days – Polish erotic drama 18+: an explosive mixture like "The Godfather" and "50 Shades of Grey". Luxurious Sicilian views and the sea shot juicy and expensive. The picture has two sequels: 365 Days: This Day and 365 Days Part 3.
In addition to the stylish looks in the film, we have a damn sexy Massimo and a charismatic Laura. Confrontation of bright personalities and mutual seduction, for which passion is fascinating to watch.
Worth seeing in the company of friends with a glass of wine.
Diana (2013)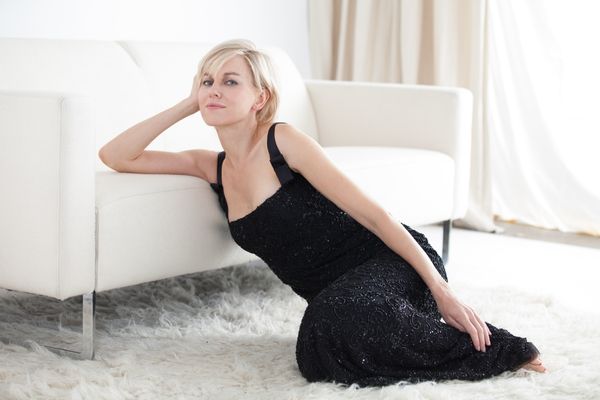 IMDb 5.5. Director Oliver Hirschbiegel, starring Naomi Watts, Naveen Andrews and Cat Anvar
Princess Diana was the most famous woman of her time, even during her lifetime, called "the princess of human hearts." She won the hearts of millions, and everyone confessed their love to her – from the Prince of England to powerful billionaires. But who did she love?
A few years after breaking up with Prince Charles, Lady Diana almost forgot about her personal life and devoted herself to social activities. Her schedule is limited, and meetings and events go on endlessly. Then, while visiting one of the London hospitals, she accidentally meets a 36-year-old heart surgeon.
Thus begins the romance, which, according to many of Diana's friends, has become "the love of her life." Official audiences at Kensington Palace and secret meetings in nightclubs, the joy of short meetings and the pain of parting, the desire to always be together and the desire to avoid publicity
Molly's Game (2017)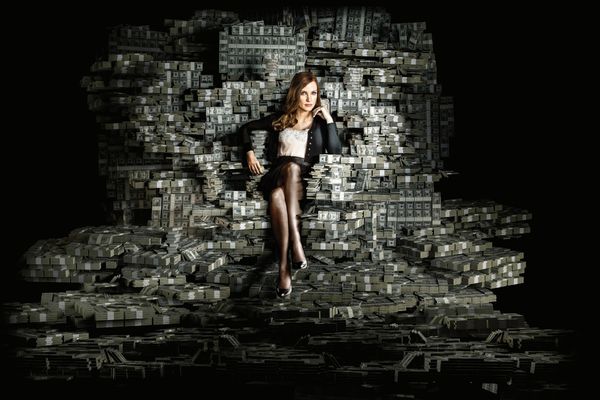 IMDb 7.7. Director Aaron Sorkin, stars Jessica Chastain, Idris Elba, Kevin Costner.
Molly Bloom is the self-proclaimed princess of poker who "has been able to run a multi-million dollar business with nothing more than wits and a deep neckline."  In her expensive underground casino in Hollywood, famous people from various walks of life played and lost fortunes. But, then, big money attracted people from the criminal world, followed by the FBI. The film will tell us how she came to her unofficial title, what she went through, and how it all ended.
Interestingly, Molly Bloom, who pled guilty to a federal crime in the United States, was banned from entering Canada. Still, this country's authorities granted her a 48-hour stay to attend the film's premiere at the Toronto International Film Festival.
Parasite (2019)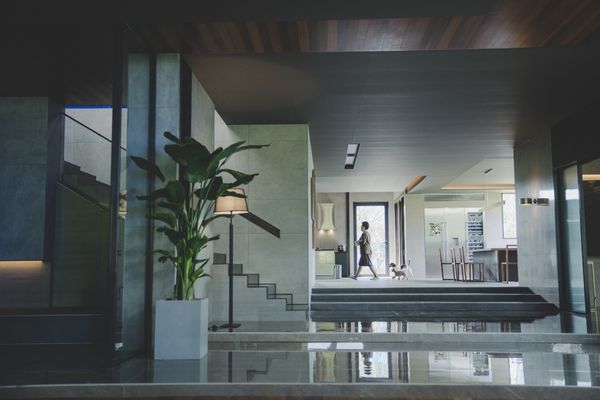 IMDb 8.5. Directed by Bong Joon Ho, stars Song Kang-ho, Lee Sun-kyun and Cho Yeo-jeong.
The CEO of an international IT company, Mr. Park, lives with his family in a luxurious mansion full of designer items, works of art, and dark secrets. The hidden becomes clear when Mr. Park's eldest daughter gets a new English tutor.
The film's main idea – to show social inequality and its consequences – is demonstrated by comparing two families. Two different families, as if looking at each other, as if in crooked mirrors, are those same parasites.
For those who are wealthier, those who are poorer will always be parasites – they even emit a specific smell. For those who are poorer, the parasites will always be those who are richer because they have everything.
And by the way, this film took four Oscars.
Pretty Woman (1990)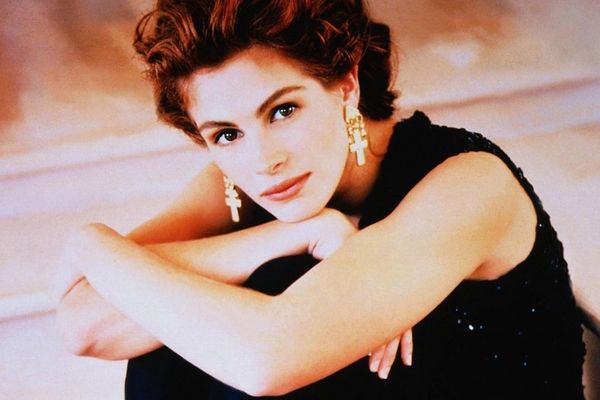 IMDb 7.1. Director Garry Marshall, stars Julia Roberts, Richard Gere and Jason Alexander.
He is a rich businessman, a womanizer, extremely elegant, and impresses the viewer with secular manners and Armani suits. And at the same time, he is clearly preoccupied with his life of little substance. He is divorced and dumped by his girlfriend, who took his beloved dog with her.
She is beautiful and seductive, sexy but not vicious. She has short blonde hair, a vulgar outfit, and boots that fasten with a safety pin. And she is a street girl working on the boulevard.
The actress's sensuality, charm, sincerity, and beauty made it possible to believe in the most incredible plot moves. The viewer believed in transforming the 'moth' into a real Cinderella. But looking closely, you can see a great story about self-esteem and personality formation.
For me, Pretty Woman was one of the first movies with luxury lifestyle. I still remember the shopping scene, their visit to the opera, and the horse races.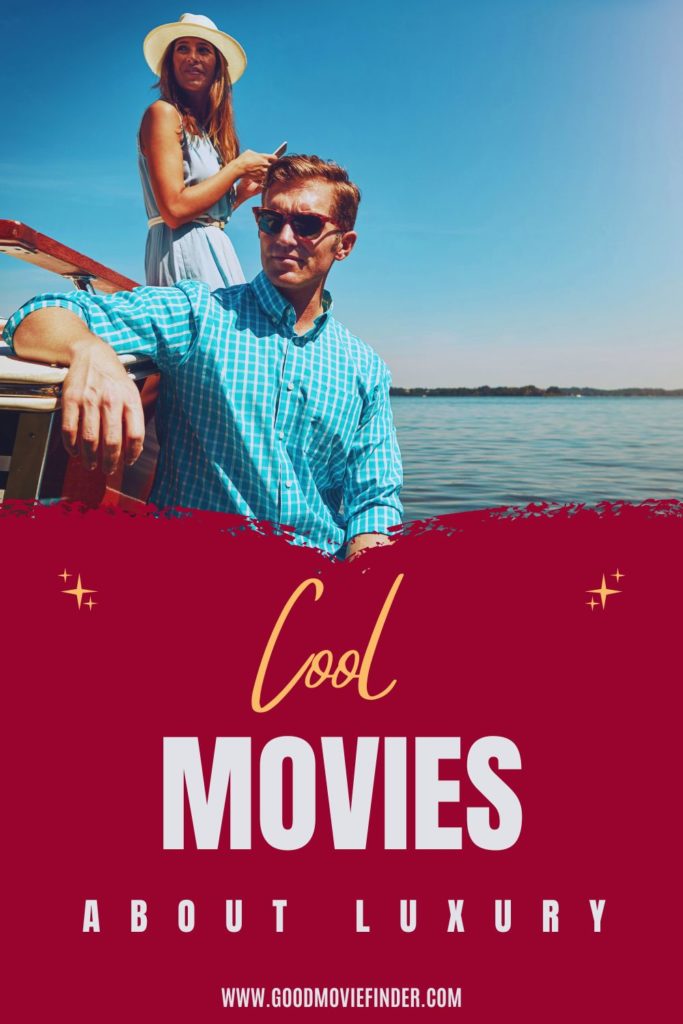 P.S.
Have you ever dreamed of a luxe life? Which movie from my selection would you like to watch this weekend?
Share this blog post if you enjoyed it. I would really appreciate it!