Who puts limits that prevent us from achieving success and love? Do models and beauties have an easier life? What will happen if we truly believe that we are already beautiful and worthy of the best?
Today I made a list of 11 movies about body positivity. We will look at beauty standards from different angles.
Each story convincingly proves that we are much more than our physical appearance.
Movies about beauty standards.
Mask (1985)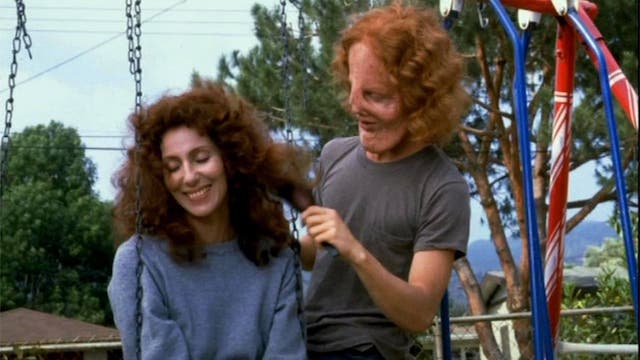 Even beautiful people wear masks.
Mask is a story about a boy with a huge deformed face who every day faced the fact that people refused to accept him as a person.
He often hears jokes about the mask but hardly reacts to them. His fighting mom biker goddess (Cher) and her friends on Harleys keep him safe from ridicule. 
It only gets complicated when it comes to girls, but at a summer camp, he meets a blind beauty who doesn't care about his face.
This film is based on a true story and follows the life of Roy Lee Dennis, who died at 16. The real Roy was sick with a rare disease – craniodiaphyseal dysplasia. His mother sold the rights to a story about his life for $15,000.
A great singer and actress, Cher played the role of the mother. And the role of Roy went to Eric Stoltz. The magnificent Peter Bogdanovich directed the film.
The Mask is a remake of David Lynch's The Elephant Man.
I think it is a story about how we look at and evaluate each other by fleeting external characteristics. And about how difficult it is for us to perceive and understand the essence of a person. 
After all, we all wear masks to one degree or another and hide behind them, locking up our true character.
I Feel Pretty (2018)
Not beauty will save the world, but confidence in your beauty!
Almost all selections with movies about beauty standards have this film, and I also love it. It has debatable artistic merit but is perfect for a movie night with popcorn and ice cream.
The main character, living in stereotypes about her appearance, is sure of her unattractiveness. But, then, one day, she hits her head hard and wakes up with the firm conviction that her appearance has changed: now she is a supermodel with ideal parameters and a face shape.
Naturally, no miraculous changes happened to the heroine. People around do not understand where so much arrogance came from in her, but this does not prevent the girl from confidently moving up the career ladder, falling in love with men, and sincerely enjoying life.
The film's plot again emphasizes that a positive attitude towards oneself as a person, purposefulness, and self-confidence helps to make dreams come true. 
Since all opportunities come to us through others, and everyone likes a good and kind attitude, optimism, sincerity, and bright eyes are the best motivation and sources to follow.
By the way, I want to note that to be confident in your beauty, hitting your head on the floor is unnecessary. I know a guaranteed way to accept myself and my uniqueness. It is psychotherapy.
200 Pounds Beauty (2006)
The Korean fairy tale about self-worth.
Again a movie about a girl who dreams of becoming a TV star. Kang Han-na sings for a soundtrack of a famous but absolutely mediocre singer. But the girl herself wants to perform on stage. The producer refuses to put her in the frame and demands that Kang lose weight.
The heroine chooses a rather radical way: she decides to undergo plastic surgery and, a year later, not at all like herself, tries to conquer the stage. But will it bring her happiness?
I noticed that the film is saturated with sincerity and feelings.
Most importantly, this picture reveals a couple of pressing problems of our time: the opposition of inner and outer beauty, star disease, fortitude, often made mistakes that can most often be recognized and corrected, as well as the ubiquitous problem of love.
Separately, I want to say about the music in the film. The main character sang all the songs herself, which I think now is a rarity! The songs from the movie are really great!
It turned out to be a sweet romantic fairy tale about how to go to your dream and, most importantly, not forget who you are.
Tall Girl (2019)
One of the great movies about body image for teenage.
Almost every school had a couple of very tall girls teased by cheeky boys all the time. Tall Girl is a film about a high school student who is 16 years old, and her height is 185.5 centimeters.
Jodi always had a complex because of her height and tried to be invisible. But now it's time to get out of the shell. Jody falls in love with a new student, which seems to be mutual.
And for starters, she has to meet her inner demons and love herself. And then, when Stig reciprocates, she will have to fight public opinion again because the recognized beauties of their school laid eyes on the newcomer.
The film is about a rather urgent and at the same time rather dull problem among schoolchildren. It is about when you're not like everyone else.
Thanks to the creators of this picture for another example of how to treat each other with kindness. 
Dietland (2015)
Skinny and plus-size women are in the same boat.
The series, based on the book of the same name by Sarah Walker, tells the story of a journalist whose main task is to answer questions from young readers and help them solve problems with advice.
But Plum herself cannot boast of high self-esteem and suffers from criticism of her weight all her life. So she decides to get rid of the "problem" radically – she will resort to surgical intervention.
While Plum is waiting for the operation, a scandal within the feminist community flares up, and a whirlpool of events twists the main character.
This series is not about diets, and it isn't really a comedy. Instead, it is a metaphor for a rather hostile world where a woman is subject to mental and physical abuse. The series tackles several important themes at once.
The theme of body positivity is torn apart in Alicia's throwing between the two extremes of "the cult of a thin body – body positivity." 
The heroine accepts Verena's offer and is included in the program to refuse the operation and be herself.
However, this experience is traumatic and leads the heroine to unexpected results. The director Marty Noxon seems to be trying to say that the phenomenon of body positivity is not a one-size-fits-all solution. Sometimes it just doesn't work.
The series also touches on themes: violence and sexual harassment of sexuality.
But, perhaps the most important moral of Dietland is that a woman can never be safe, whether she is thin or fat, wise or stupid in society, or alone.
Brittany Runs a Marathon (2019)
Dangerous film of body positivity.
I'm thrilled I found this movie! Finally, I saw a heroine who wanted to lose weight, not to conquer the stage or get married. Brittany wants to lose weight for health! But first things first.
Brittany is a 28-year-old Manhattan girl with no ambition. She works in a barely paid position in the theater and goes to parties at night. After a visit to the doctor, she learns that she needs to make significant lifestyle changes, including losing 55 lbs.
But she can't afford a gym membership, and Brittany needs plan B. So the girl decides to change her life and starts with sports. 
Brittany chooses running as a physical activity, which is difficult for her, given the extra weight and lack of sports in her life. However, in the running group, she makes a new friend – Seth, who hates sports just like she does.
After the friends submit to the first race, they decide to fulfill an impossible dream and run the New York Marathon in a year. However, for the sake of realizing the goal, Brittany will have to change her life completely, take a fresh look at familiar things and, most importantly, overcome self-hatred.
Brittany's journey to a new life doesn't follow any stereotypes, which makes her wins so significant, and her mistakes so poignant, that you won't be able to remain indifferent every time she goes wrong. This depiction of self-improvement of her character Jillian Bell is pure gold.
Self-acceptance, the search for confidence, overcoming all the stages on the way to a simple and, at the same time, complex goal – self-love, care in defiance of one's convictions – these are the main themes of this simple and heartfelt picture!
Start slowly and step by step go towards it, because you want to be happy and you will achieve it!
Real Women Have Curves (2002)
We aren't body fat.
Ana is finishing school and can attend university, but her mother thinks otherwise. She says the fun is over, and it's time to start working and get married.
Reluctantly, the girl goes to iron dresses and sweep the floors at her sister's clothing factory. But according to the same caring mother, it remains only to lose weight: "You would be so beautiful without all this fat!"
The film was recognized at several film festivals and was later named one of the most influential "independent" films of the 2000s.
The movie earned high marks from critics, not due to its unique depth or even a rare digression into Latin American culture, but thanks to an innovative approach to the problem of corporeality. It featured the first plus-size protagonist in cinematography, who in the critical scene strips down to her panties and points her finger at her cellulite:
"I'm not this fat, but thoughts, feelings, opinions!

Ana
There is a wonderful scene when a group of Hispanic factory workers of different sizes and ages becomes a representation of all life on earth for a few minutes.
It is one of my favorite movies about body positivity, for sure!
Calendar Girls (2003)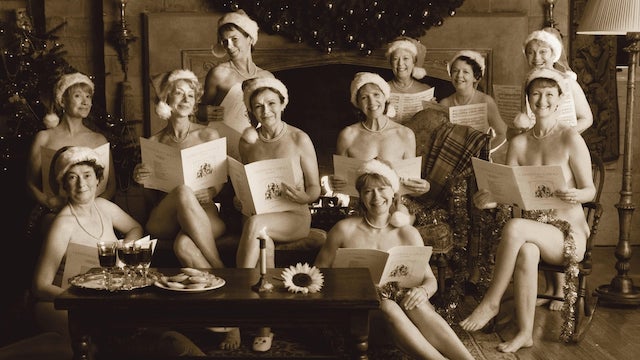 Courage naked women over 40.
Our next film is very touching and based on actual events.
Yorkshire housewife Chris has a husband dying of cancer. To avoid going crazy with grief, she sets herself a small goal: together with her friend Annie, she organizes the shooting of a calendar under the auspices of the Women's Institute. 
Proceeds from sales will be used to buy a sofa for the hospital. To draw attention to the project, instead of the usual rural views, Chris suggests photographing the women themselves – naked.
And the calendar suddenly becomes a bestseller!
The heroines are not trying to beautify with the help of stylists and make-up artists. Calendar Girls is filmed in a neo-realistic manner: close-up wrinkles that have lost their slim figure, awkwardness, and laughter at oneself.
But at the same time, love and respect for yourself and your imperfect body. Unfortunately, none of the filmmakers has yet sung such a hymn to a woman over forty.
Fat Front (2019)
Does the body positive a solution?
A film with four girls (a Dane, a Swede, and two Norwegians) tells the story of how they learn to accept their bodies throughout their lives.
Our heroines try to convince others that they should not tell them what to do with their bodies. One girl does a second-hand shop with plus-size clothes; the other becomes a plus-size model.
This film attracted me because it is a documentary, and we see the stories of real people. But in my opinion, the director was not successful in collecting these four stories and weaving them into a standard narrative. Therefore, only the stories of the heroines told by them on camera can be called candid.
I want to focus on the heroine Marta. In my opinion, she is the only one who ultimately accepted herself. Although body positivity, in her case, is just an engaging social movement, she is already doing well.
As it turns out, the rest have serious psychological problems, and participation in the body-positive movement does not contribute to their solution at all; it either aggravates them or pushes them into the background.
If you watch this film, you will understand that there is a breakdown in all the other heroines. They give the impression of depressed people, for whom all body-positive activism is nothing more than a sublimation and not a solution to their problems.
All their problems lie not in the social sphere but in relationships with relatives or themselves.
They try photo shoots, candid photos, eccentric behavior, and other activities to drown out their pain. The only heroine who coped with her fears is not a body-positive activist but simply lives her life.
Malena (2000)
Beauty is like a trial.
This picture is about a woman who was impossibly beautiful for a small Italian town.
A vast number of girls in the world strive to adjust their appearance to generally accepted standards – but those who naturally meet the standard have no less problems.
A small Sicilian town, years of the 2nd World War. Malena's husband goes to war, where he soon dies. So the young widow becomes the object of desire for all the men in the town and the object of envy and gossip on the part of women.
The beauty of Monica Bellucci in Malena is that you can't argue with her. The sensual curve of her hips, her hair's magic, and her gait are like a hypothesis that does not require proof. No one needs to prove anything; neither women nor men – walk down the street under the sight of hundreds of eyes.
The tragedy of Malena lies in the fact that this beauty is being destroyed before our eyes.
People can forgive even your talent, but they will never forgive your beauty.

Monica Bellucci
The unbearable pain of understanding that you do not have something beautiful, perfect, and outstanding equally torments the souls of both men and women. The only difference is that women could not be her, and men could not be with her. As a result, both those and others accumulated anger.
Not only being overweight, but beauty can also be a challenge—a test for the person and those around him.
If you are curious about this movie – check out my short review, Is Malena Worth Watching?
Final words.
A perfect reflection in the mirror is not all that is needed for happiness. I hope you found inspiration after reading my selection of movies about body positivity.
Did you see any of these movies? Write down below in the comments.
Share this blog post if you enjoyed it. I would appreciate it!