Stanley Tucci.
American actor, screenwriter, film producer, and director.
He was the nominee and five-time winner of the Golden Globe and Emmy awards nominee for the Academy Award and the British Academy Film Award.
Stanley Tucci has two main roles: a villain capable of cold-blooded murder and the role of wise, kind, and ironic friends or advisers.
Today I want to share the ten best Stanley Tucci movies with you.
Stanley Tucci characters.
Supernova, 2020.
The chamber picture of Harry Macqueen became a revelation, if not for the jury members of numerous festivals, then definitely for sophisticated viewers. The story is played out by the performers of the leading roles subtly and touchingly.
Spouses Sam and Tusker in Supernova seek their place in this world. Or rather, they spend their last happy days together because Tusker was diagnosed with dementia.
Firth and Tucci have worked together more than once. There is chemistry between them, and mutual understanding and love are visible between their heroes with the naked eye.
Tusker looks tenderly into the eyes of the lost Sam, not allowing the illusion of eternity to collapse until the very last moment.
Supernova is a stunning movie with mesmerizing European landscapes, full of colors and melancholy in the air.
Spotlight, 2015.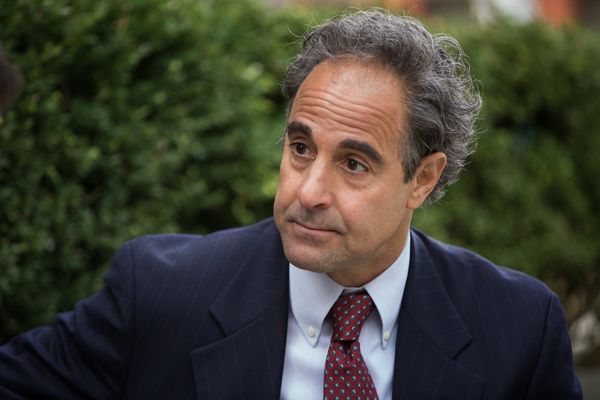 Feature films based on real stories about journalists and their investigations can already be identified as a full-fledged subcategory of biopics.
Spotlight brought to the surface a scandal in the Catholic Church related to pedophilia, based on which Francois Ozon later filmed "By the Grace of God."
Winning two Oscars – for Best Picture and Best Screenplay – Thomas McCarthy's film tells how The Boston Globe journalists, bit by bit, collected information about dozens of cases of child abuse by priests.
The role of Stanley Tucci restores faith in miracles and good people. The fact is that he played a lawyer of Armenian origin, Mitchell Garabedian. He was the only one who agreed to defend the interests of the victims of violence in court. It turned out very convincing.
It is an excellent film on the topic of the day. A positive example of how journalism works. Demonstration of a thirst for truth and justice. Let's watch everything together.
Burlesque, 2010.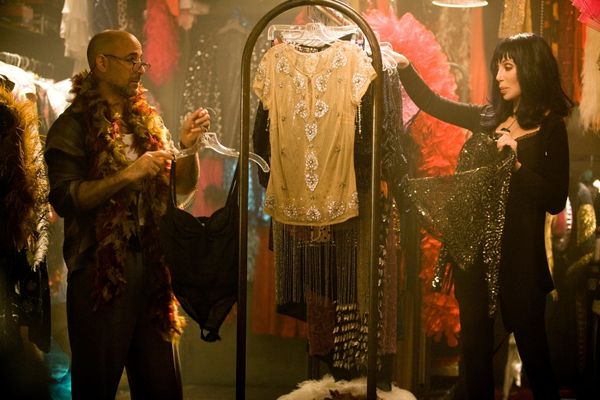 This picture is about a show that must go on. Ali is a young talented girl who moves from a small town to Los Angeles. So, of course, she needs to find a job to support herself. 
Then, she ended up in the Burlesque nightclub, where she became a talented dancer and singer. The voice of young Ali can only be envied.
The most reliable man in this film is the hero of Stanley Tucci. He plays Tess' assistant, the owner of the establishment. By the way, his masculinity is most unusually combined with the mannerisms inherent in gays. Yes, Tucci is playing a homosexual.
This is an entertaining, light movie, but it amazes with such charm that you just want to drown in its luxury and splendor and believe in a fairy tale for two hours.
The Lovely Bones, 2009.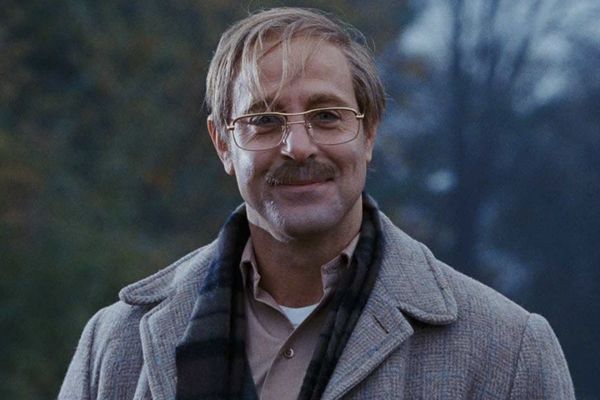 The mystical thriller from the creator of The Lord of the Rings, Peter Jackson, is an adaptation of the best-selling book by Alice Sebold.
According to the plot, young Suzy becomes a victim of a maniac George Harvey, who lives next door (Stanley Tucci). However, the girl does not immediately ascend to heaven – for some time, she is invisibly present next to her relatives and oversees the investigation into her murder.
The same year, Tucci recognized this role as the most difficult in his career.  I wrote about this character in The Lovely Bones summary movie article.
The Hunger Games trilogy.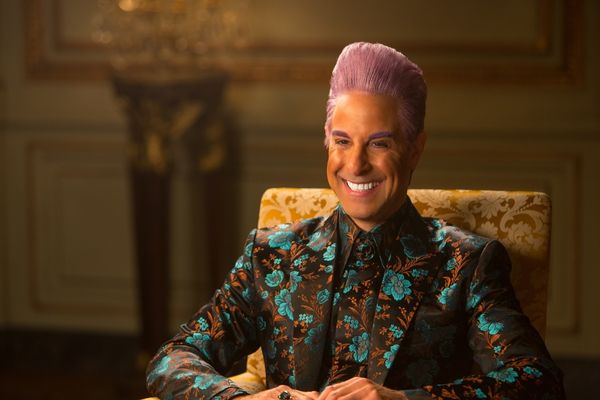 Future. The despotic state annually arranges demonstration survival games, which are watched live by the world. The lot to participate in the Games falls to young Katniss and Peeta, who is secretly in love with her. They have known each other since childhood, but now they must become enemies. 
After all, according to the unbreakable law of the Hunger Games, only one of the 24 participants can win. The judges don't care who wins; the main thing is the spectacle. And this time, the spectacle will be unforgettable.
In The Hunger Games, Stanley Tucci played the ironic presenter Caesar Flickerman, who teases the participants in the show.
It is a pity that the script gives him less screen time than he would like. Stanley Tucci in Caesar's purple wig is adorable.
Conspiracy, 2001.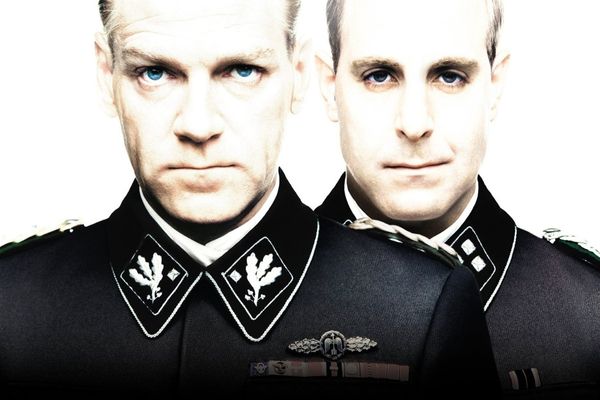 The film "Conspiracy" 2001 is dedicated to a historical event known as the Wannsee Conference.
If you suddenly want to talk about humanism, the eternal struggle between good and evil, I strongly advise you to watch this film. 
During a two-hour meeting with cigars and wine, 15 respectable, well-educated Europeans developed a plan to destroy several million people. Teachers, doctors, musicians, and artists. Women and children. Not in the bloodthirsty Middle Ages. Only 80 years ago. And this fact is impossible to realize and accept until the end.
The cast gathered bright and original actors: in addition to Stanley Tucci, who tried on the image of the head of the "Jewish department," Adolf Eichmann, Colin Firth, Kenneth Branagh, and David Threlfall starred in the film. By the way, Branagh received an Emmy for his efforts, and Tucci received a Golden Globe.
So, who were these people? Good gears in the well-functioning bureaucratic machine of the Reich or enthusiasts of their own business? Do they bear personal guilt for what they agreed on during this meeting, or was it a purely technical planning meeting, and everything was already decided without them? 
I advise you to watch this picture.
Honestly, after I watched this movie, I couldn't sleep. If you are interested in the holocaust, check out my The Pianist movie review.
Beauty and the Beast, 2017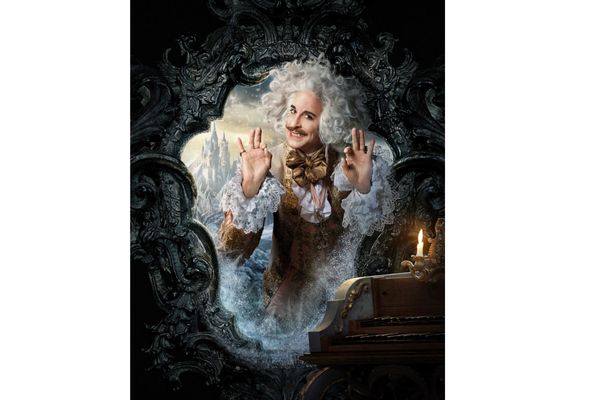 The fairytale is about the attraction of opposites. 
She is a beautiful and intelligent girl named Belle, and he is a cursed monster locked in a castle. He will perish if he cannot find true love before the last petal falls from the enchanted rose. 
But what are his chances with such and such appearance? Belle, who accidentally found herself in his castle, will prove that an unattractive appearance is not a barrier to real feelings.
The story about the beauty and the beast is as old as the world. All the characters in the film are well known to the viewer from the Disney cartoon of the same name. All except one. 
A new character appears in the film – a neurotic piano named Cadenza. Together with Lumiere and Mrs. Pot, he lives in an enchanted castle. Plays it, as you might guess, the master of reincarnations Stanley Tucci. I must say that his hero seemed to breathe new life into a well-known plot.
Big Night, 1996.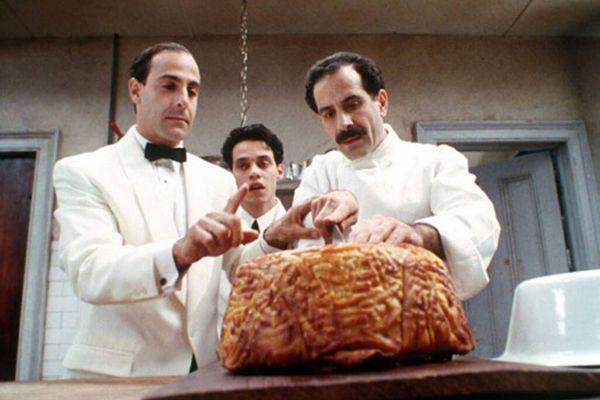 For many years, Stanley Tucci has been interested in creating cocktails and cooking in general – he even shares video recipes online and in books of his authorship. And a quarter of a century ago, the actor starred in a film about two Italians in New Jersey who came to conquer the restaurant business.
The chef and manager siblings find it difficult to understand each other's professional thinking, so their daily passionate debates over the concept of the Paradise establishment get into the frame. But, then, a restaurant failure leads them into a trap cleverly set up by severe American competitors.
Stanley Tucci plays the role of Secondo in the film, one of the Italian brothers. He is restrained, reasonable, impeccably dressed, and sensual. His worries about business are truly exciting to watch. At one point, I wanted to hug the hero, pat him on the head, and say everything would be fine.
Julie & Julia, 2009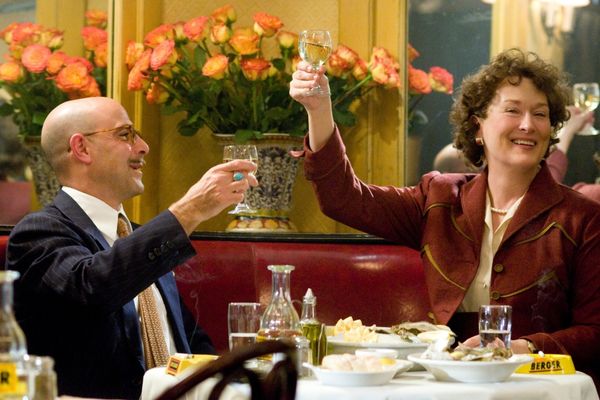 Julie Powell is a call center operator. To escape from the bustle of work, she sets herself the task of cooking all the dishes from the famous cookbook of the 50s. And to avoid jumping off this thorny path, she decides to start blogging.
In an ideal world, all films should star Meryl Streep and Stanley Tucci. This couple is so colorful, and it restores faith in everything good so much that you want to drop everything and watch tapes with their participation for hours. 
In Julie & Julia, he plays Paul, Meryl Streep's wife, who never, for a second, dared question her culinary talent. This support inspires and makes you move forward. If only everything in life were like this.
It сould happen to you, 1994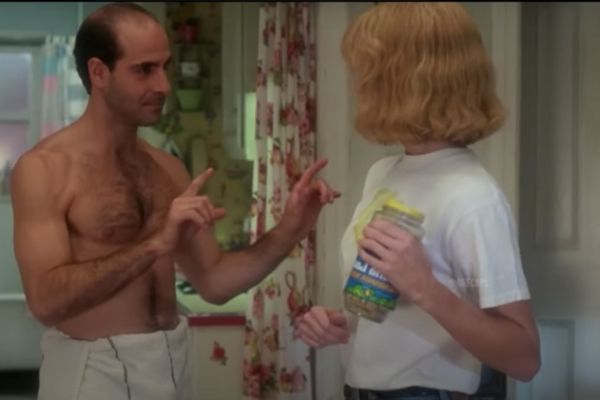 The story is about an obscenely large tip. Charlie Lang fights crime day and night. But, as you know, he is a policeman, and representatives of this profession do not receive huge sums. 
Lang's wife constantly pressures her husband, demanding more and more money. Finally, in desperation, the hero goes to a bar, where he meets a pretty waitress. But here's the problem – he doesn't have enough money for tips. Lang promises to return to her with a tip as soon as he gets rich, and this moment does not take long.
The central role in this film is assigned not to Tucci but to Nicolas Cage. He is the very suddenly rich policeman. Stanley Tucci is Cage's rival. His hero was once also fascinated by the beautiful waitress Yvonne. The hero of Tucci is ambiguous: he is both disgusting and charming at the same time. His presence in the film turns the tape into a tearful romantic film and a real emotional drama.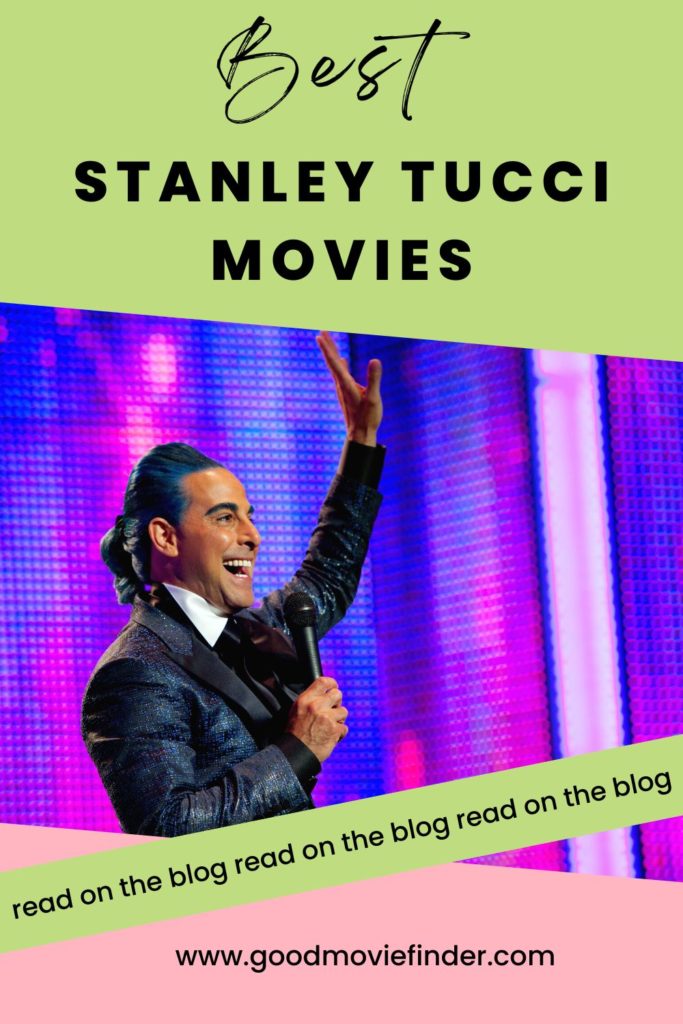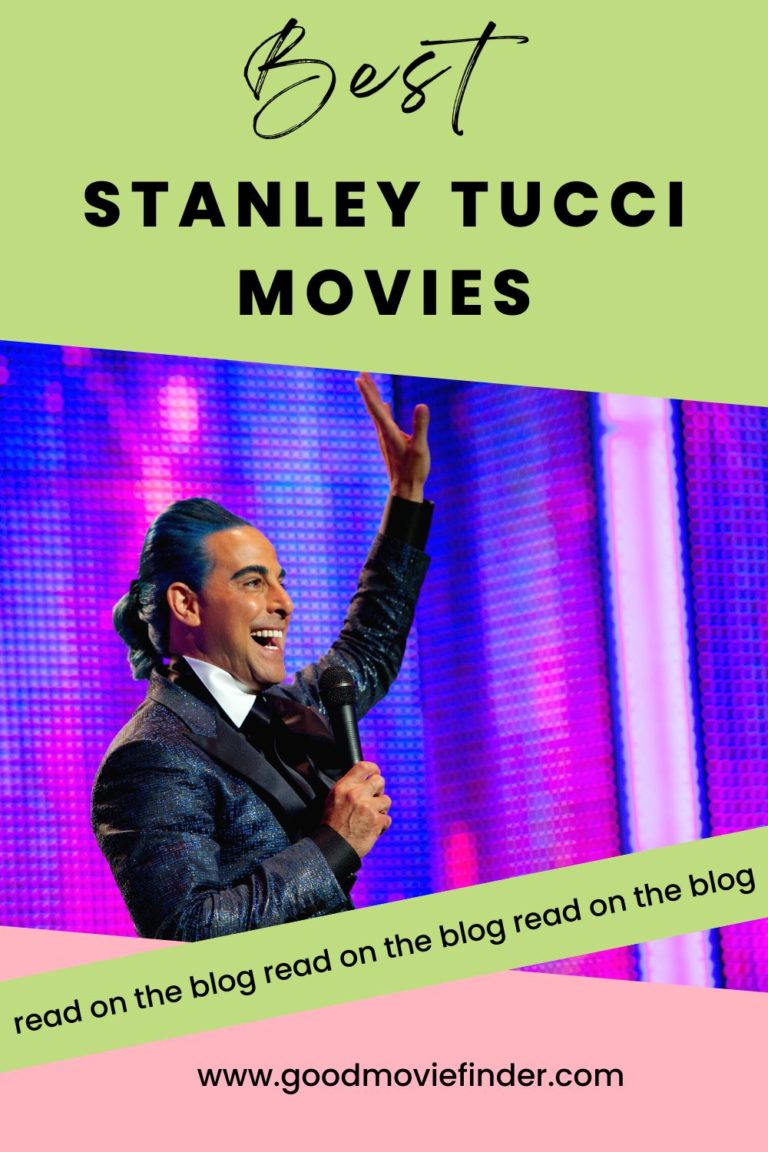 Final words.
You will definitely fall in love with Stanley Tucci—a unique actor who perfectly plays everyone – from supervillains to good wizards.
What films have you watched with this actor? Write down in the comments.
Share this blog post if you enjoyed it. I would really appreciate it!